af Karsten Jørgensen
I sidste uge var det trommeslageren Denny Seiwell, som fyldte 80 år, og i denne uge er det hans guitarspillende kollega fra tiden i Paul McCartneys Wings, Henry McCullough, som ligeledes ville være fyldt 80 år.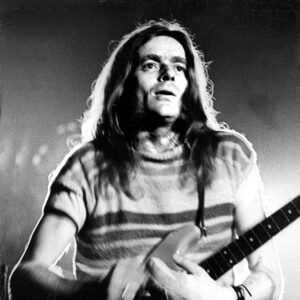 Guitarist og studiemusiker Henry Campbell Liken McCullough blev født i Portstewart i det nordirske grevskab Londonderry den 21. juli 1943.
McCullough dannede i begyndelsen af 1960'erne gruppen The Skyrockets, og blev senere medlem af andre lokale grupper, som Gene & The Gents i 1964 og People i 1967.
Han flyttede til London senere i 1967, hvor People blev tilknyttet manageren Chas Chandler og ændrede navn til Eire Apparent, som McCullough imidlertid forlod i 1968, hvor han blev medlem af den folkorienterede gruppe Sweeney's Men.
I 1969 blev Henry McCullough guitarist i Joe Cockers backinggruppe, The Grease Band, som bl.a. optrådte med Cocker på den legendariske Woodstock-festival samme år. The Grease Band nåede at udsende ét album i eget navn, før McCullough cirkulerede videre til den progressive rockgruppe Spooky Tooth.
Wings, med Henry McCullough ovenover Paul og Linda
I januar 1972 gav Paul McCartney ham et tilbud om, at blive lead guitarist i hans nye gruppe Wings. McCulloughs første indspilning med Wings var singlen "Give Ireland Back to the Irish" i februar 1972, og senere medvirkede han også på singlerne "Mary Had A Little Lamb", "Hi Hi Hi", "Live And Let Die" og "My Love", samt albummet "Red Rose Speedway".
Musikalske uoverensstemmelser betød imidlertid, at McCullough allerede i august 1973 forlod Wings, umiddelbart før Paul McCartney indspillede megasuccesen "Band On The Run".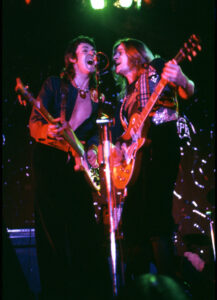 McCullough på scenen med Paul McCartney
Gennem resten af 1970'erne virkede McCullough i vid udstrækning som studiemusiker for bl.a. Frankie Miller Band, Eric Burdon, Marianne Faithfull, Ronnie Lane og Donovan, og udsendte et soloalbum, "Mind Your Own Business", på George Harrisons pladeselskab Dark Horse.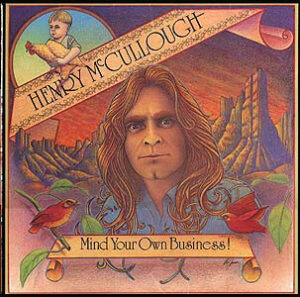 Albummet 'Mind Your Own Business', 1975
I de følgende årtier holdt McCullough forholdsvis lav profil, mens han opholdt sig mest i Skotland og Nordirland og udsendte omkring ti soloplader, der alle holdt sig under radaren.
I november 2012 fik Henry McCullough et hjerteanfald, som efterlod ham i kritisk tilstand og svækkede hans helbred betragteligt, og den 14. juni 2016 meddeltes det, at han var død i sit hjem i Ballywindelland i Nordirland, 72 år gammel.