af Karsten Jørgensen
I fredags udkom Neil Youngs nyeste album, "Earth", hvor hans våbenbrødre igen er Willie Nelsons sønner i gruppen Promise Of The Real.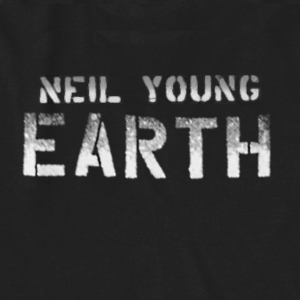 "Earth" er et live-album, der udkommer som dobbelt-cd og tredobbelt album, og indeholder 13 sange fra hele Neils karriere, optaget under sidste års turne med Promise Of The Real.
"Det er helt anderledes end noget andet, jeg har lavet", fortalte Neil til Rolling Stone om "Earth", hvor dyrelyde i alle afskygninger er fremme i front, og tilføjede: "Sangene er for lange til iTunes, heldigvis, så du kan ikke finde dem på iTunes".
Sidste år udsendte Neil Young protestalbummet "The Monsanto Years", ligeledes med Promise Of The Real, men spekulationer om, at hans gamle samarbejdspartnere i gruppen Crazy Horse er lagt på is, afviser han i det nye nummer af Mojo: "Crazy Horse er stadig derude i fremtiden, hvis vi er heldige", siger Neil.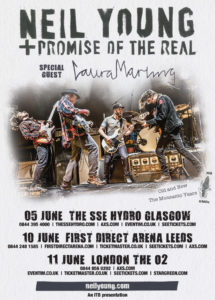 Poster fra Neil Youngs koncerter i England, juni 2016
Neil Young spiller på Orange Scene på Roskilde Festivalen fredag aften.
Trackliste for "Earth":
Mother Earth
Seed Justice
My Country Home
The Monsanto Years
Western Hero
Vampire Blues
Hippie Dream
After The Gold Rush
Human Highway
Big Box
People Want To Hear About Love
Wolf Moon
Love And Only Love
"Earth", med Neil Young + Promise Of The Real (Reprise Records 554514-2) 24. juni 2016.