af Karsten Jørgensen
Efter fire års pause, indleder Neil Young den 1. juli sin første turné siden corona-pandemien holdt sit indtog og satte en effektiv stopper for al turnéaktivitet. Og selvom der senere blev løsnet på restriktionerne, har Neil Young valgt at vente, indtil han mente, at koncerter var et sikkert forum både for ham selv og for publikum.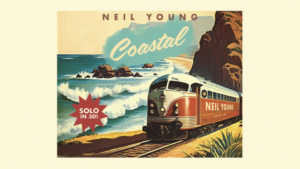 Turneen, som kaldes "The Coastal Tour", er en solo-tur gennem en række stater på den amerikanske vestkyst, bl.a. Californien, Oregon, Washington og Nevada, og indledes med fire koncerter i det lille John Anson Ford Theatre i Los Angeles den 1., 2., 4. og 5. juli. Turneen slutter den 24. juli i Outdoor Arena at Harveys i Lake Tahoe, Nevada.
Neil Young har sammensat en sætliste på omkring 15 sange, og han lover, at det meste af repertoiret kommer til at bestå af rariteter, som han ikke har spillet live før eller i hvert fald sjældent.
"Jeg vil ikke vende tilbage og spille de samme sange igen og igen", sagde Young, da han annoncerede den nye solo-turné. "Jeg ønsker ikke at lave en sammenligning af 'Heart of Gold' med hvordan jeg spillede den i 1970, 1980, 1990, 2000, 2010 eller 2020…"
Sange, der er nævnt som kandidater til sætlisten, er bl.a. "Prime of Life" fra albummet "Sleeps With Angels" og "Song X" fra fællesalbummet med Pearl Jam, "Mirror Ball". Endvidere får publikum også lov at høre "If You Got Love", et outtake fra Youngs "Trans"-LP fra 1982.
Neil Youngs sidste rigtige turné fandt sted i 2019, og siden har han kun optrådt sporadisk ved enkeltstående velgørenhedskoncerter.