af Karsten Jørgensen
Fornylig bekræftede Ringo Starr overfor branchemagasinet Billboard, at Beatles-albummet "Abbey Road" vil få samme behandling som både "Sgt. Pepper" og "Det Hvide Album", når det til september fylder 50 år.
"Jeg holder meget af genudgivelserne, fordi de bliver remasterede", fortalte Ringo, som specielt er glad for, at lydkvaliteten er forbedret. "Man kan bedre høre trommerne, som blev nedtonet på pladerne i gamle dage".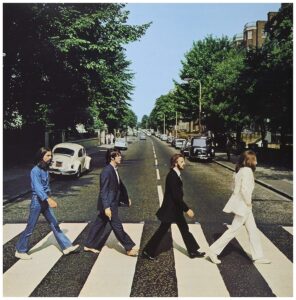 I 2017 og 2018 blev "Sgt. Pepper" og "Det Hvide Album" genudgivet i deluxe-versioner i forbindelse med deres respektive 50 års jubilæer, med de oprindelige plader i remasterede udgaver, samt akustiske versioner, alternative takes og uudgivne sange, som er med til at tegne et billede af, hvordan de oprindelige sangskitser blev til de endelige sange.
Men hvis man skal tro Ringo, er netop dette aspekt af deluxe-udgaverne ikke lige hans kop te.
"Personligt er jeg lidt træt af at høre Take 9 eller Take 3 – alt det, vi ikke udgav dengang", sagde han. "Men det er åbenbart en del af konceptet med et boks-sæt".
"Abbey Road", som har et af The Beatles' mest ikoniske pladeomslag og var det sidste album gruppen indspillede sammen, blev oprindelig udsendt i England 26. september 1969, og det bliver interessant at se, hvad bonus-materialet vil indeholde.
F.eks. blev demo-versioner af sangene "Mean Mr. Mustard" og "Polythene Pam" allerede udsendt på sidste års "White Album"-boks. Tidligere versioner af "She Came In Through The Bathroom Window" og "Oh Darling" udkom allerede i 1996 på "Anthology 3", og det samme gjorde demo-versionen af "Come And Get It", Take 5 af "Maxwell's Silver Hammer" og demoen af "Come Together".
Tilbage er dog stadig udgaven af "I Want You (She's So Heavy)" med Paul McCartney på leadvokaler (i stedet for John Lennon), plus en version af "Her Majesty" med Lennon på slideguitar, som varer to minutter længere end afslutningsnummeret på den oprindelige udgivelse af "Abbey Road".