af Karsten Jørgensen
Som tidligere annonceret udsender Bruce Springsteen den 27. september sin selvbiografi, "Born To Run", på forlaget Simon & Schuster, og nu er det så blevet offentliggjort, at erindringerne ledsages af en ny cd, "Chapter And Verse", der både er et soundtrack til 'Bossens' memoirer, men også indeholder fem hidtil uudgivne sange fra årene før han pladedebuterede på Columbia Records i 1973.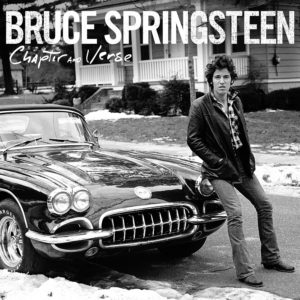 "Chapter And Verse" udkommer både som cd og dobbelt-LP på Bruces 67 års fødselsdag, den 23. september, og indeholder i alt 18 sange. De fem uudgivne sange er to med Springsteens første band The Castiles fra 1966 og 1967, en med Steel Mill fra 1970 samt en hver med The Bruce Springsteen Band og Springsteen solo fra 1972. Resten er et udvalg af hans største succeser fra "Greetings From Asbury Park, N.J." fra 1973 og frem til "Wrecking Ball" fra 2012, bl.a. "Born To Run", "Badlands", "The River", "Born In The USA" og "Brilliant Disguise".
Samtidig har Springsteens manager Jon Landau udtalt, at Bruce arbejder på et nyt solo-album, som forventes udgivet næste år, og med 'solo' mener han ikke et akustisk album á la "Nebraska" eller "The Ghost Of Tom Joad", men et album uden The E Street Band.
Trackliste på "Chapter And Verse":
1. "Baby I" — The Castiles
2. "You Can't Judge a Book by the Cover" — The Castiles
3. "He's Guilty (The Judge Song)" — Steel Mill
4. "Ballad of Jesse James" — The Bruce Springsteen Band
5. "Henry Boy"
6. "Growin' Up"
7. "4th of July, Asbury Park (Sandy)"
8. "Born to Run"
9. "Badlands"
10. "The River"
11. "My Father's House"
12. "Born in the U.S.A."
13. "Brilliant Disguise"
14. "Living Proof"
15. "The Ghost of Tom Joad"
16. "The Rising"
17. "Long Time Comin'"
18. "Wrecking Ball"
"Chapter And Verse", Columbia Records, 23. september 2016.