af Karsten Jørgensen
De fleste sætter som regel tempoet lidt ned, når de når pensionsalderen. Men for 74-årige Neil Young er det lige modsat, og der er tilsyneladende ingen ende på de projekter, han får fra hånden.
Lige nu har han både en EP, samt adskillige cd'er og film på vej.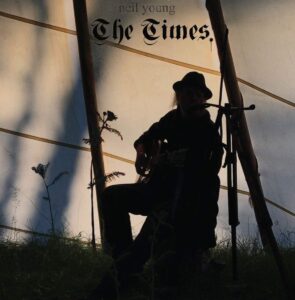 EP'en "The Times"
Allerede den 18. september sender han EP'en "The Times" på gaden, hvor man bl.a. kan høre en nyindspilning af "Lookin' For A Leader", samt en coverversion af Bob Dylans klassiker "The Times They Are A-Changin'", som også har givet EP'en navn.
Senere følger albummet "Return To Greendale", bokssættet "The Neil Young Archives Vol. 2", livealbummet "Rust Bucket" (med Crazy Horse), "Young Shakespeare" (solo liveoptagelser), "Road Of Plenty" (indspilninger fra sidste halvdel af 1980'erne), en liveoptagelse fra december 1970 (som endnu er uden titel), plus den netop annoncerede "Noise And Flowers", som er en liveoptagelse sammen med Promise Of The Real fra 2019. Sidstnævnte bliver endvidere ledsaget af en film med samme titel, og har ligesom de øvrige projekter endnu ingen fastlagte udgivelsesdatoer.
Trackliste for "The Times"-EP'en:
1. Alabama
2. Campaigner
3. Ohio
4. The Times They Are A-Changin' (Bob Dylan cover)
5. Lookin' For A Leader
6. Southern Man
7. Little Wing