af Karsten Jørgensen
I dag, hvor hele musikbranchen summer med rygter om, at 60'er-legender som både Paul McCartney, Bob Dylan, The Rolling Stones, The Who, Neil Young and Roger Waters vil optræde på samme festival i USA i oktober, er det præcis 50 år siden, at The Beatles spillede deres sidste planlagte optræden foran et betalende publikum i England.
Koncerten, der blev præsenteret som "The Line-Up Of The Century", fandt sted den 1. maj 1966 på Wembley Empire Pool Arena i London, og var arrangeret af musikavisen New Musical Express.
The Beatles' optræden på Wembley Empire Pool Arena den 1. maj 1966
The Beatles, der netop var gået i gang med indspilningen af albummet "Revolver", var utvivlsomt hovedattraktionen ved denne koncert, som også havde optræden af deres rivaler The Rolling Stones, The Who, The Yardbirds, The Small Faces, Dusty Springfield og en række andre grupper.
Efter en hed diskussion mellem The Beatles' manager Brian Epstein og The Rolling Stones' Andrew Loog Oldham, blev det besluttet at The Stones spillede først og The Beatles sidst.
Imellem de to gruppers optræden ville musikavisen uddele en stribe priser – noget Oldham insisterede på fordi han frygtede, at det ellers ville komme til at se ud som om The Rolling Stones blot var opvarmning for The Beatles.
Foran de godt 10.000 fans, som var tilstede på Wembley, spillede The Beatles fem sange på kun femten minutter – "I Feel Fine", "Nowhere Man", "Day Tripper", "If I Needed Someone" og "I'm Down".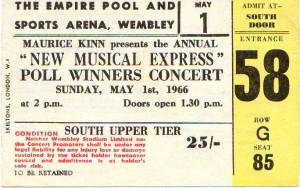 Billet til The Beatles' sidste engelske koncert
Bagefter turnerede The Beatles i Tyskland, Fjernøsten og USA, hvor de spillede deres allersidste koncert på Candlestick Park i San Francisco den 29. august 1966.