af Karsten Jørgensen
Da Paul McCartney i 2019 udgav sin første børnebog, "Hey Grandude!", var det omgående en bestseller og lå højt placeret på bl.a. boglisten i New York Times.
Anmeldelserne, derimod, var mere blandede. Avisen The Sun skrev, at det var "en charmerende fortælling fra en musiklegende", mens Kitty Empire fra The Guardian var hård i sin anmeldelse af eks-beatlens forsøg som børnebogsforfatter, og efterlyste en kritisk redaktør, som havde bedt McCartney om at "take this sad song and make it better" (et citat hentet fra McCartneys gamle Beatles-sang "Hey Jude").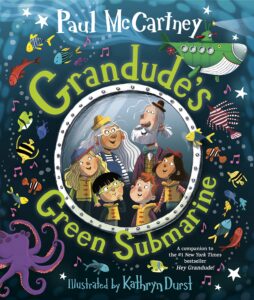 Det har imidlertid ikke taget modet fra McCartney, og nu udgiver han en opfølger, "Grandude's Green Submarine", der ligesom første bind er illustreret af den canadiske tegner Kathryn Durst, som tidligere har været tilknyttet Pixar-studierne.
Bogen udsendes den 2. september, og i en pressemeddelelse lover forlaget Random House, at den nye bog "fortsætter historien om Grandude og hans børnebørn, på en eventyrlig rejse for at finde deres musikelskende bedstemor, Nandude".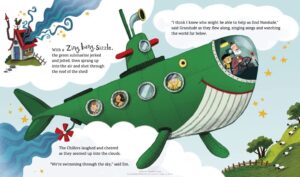 Illustration fra bogen
"Grandude's Green Submarine" er på 32 sider, og er beregnet til børn i alderen 4-6 år.