af Karsten Jørgensen
Den tidligere sanger i legendariske The Smiths, Morrissey, som siden gruppens opløsning i slutningen af 1980'erne har haft en ujævn solokarriere henover mere end ti albums, udsender den 24. maj en ny plade, som adskiller sig fra de øvrige ved udelukkende at indeholde coverversioner.
Dels fortolker han Bob Dylans gamle "Only A Pawn In Their Game", som mesteren selv indspillede på sit tredje album "The Times They Are A-Changin'" i 1963. I Morrisseys version er sangen et samarbejde med den amerikanske sanger og violinist Petra Haden, der også medvirker på Morrisseys fortolkning af Carly Simons "When You Close Your Eyes".
Blandt de øvrige sange på albummet er Joni Mitchells "Don't Interrupt The Sorrow", samt kompositioner af bl.a. Tim Hardin, Buffy Sainte-Marie, Burt Bacharach, Melanie og Phil Ochs.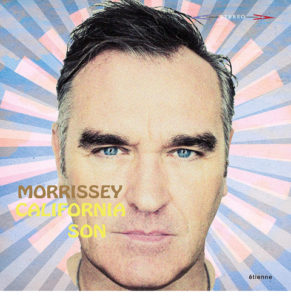 Albummet, som får titlen "California Son", er produceret af Joe Chiccarelli og udsendes af selskabet Etienne, et datterselskab i BMG-koncernen.
Trackliste på "California Son" er (med de oprindelige kunstnere i parentes):
1. Morning Starship (Jobriath)
2. Don't Interrupt The Sorrow (Joni Mitchell)
3. Only a Pawn In Their Game (Bob Dylan)
4. Suffer the Little Children (Buffy St Marie)
5. Days of Decision (Phil Ochs)
6. It's Over (Roy Orbison)
7. Wedding Bell Blues (The Fifth Dimension)
8. Loneliness Remembers What Happiness Forgets (Dionne Warwick)
9. Lady Willpower (Gary Puckett)
10. When You Close Your Eyes (Carly Simon)
11. Lenny's Tune (Tim Hardin)
12. Some Say I Got Devil (Melanie)