af Karsten Jørgensen
Den engelske trommeslager Alan White, som gennem næsten 50 år var medlem af den progressive rockgruppe Yes, er død efter kort tids sygdom, 72 år gammel.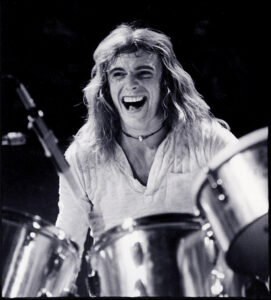 Alan White
White erstattede Bill Bruford i Yes i 1972, da gruppen netop havde udsendt det definerende progrock-album "Close To The Edge", og White fik kun en frist på tre dage til at lære gruppens repertoire, inden en amerikansk turne skulle begynde i Dallas, Texas. Det klarede han dog til ug.
Alan White blev født i Pelton, County Durham, den 14. juni 1949. Som seks-årig modtog han undervisning i klaver, men allerede da han var 12, skiftede han instrument til trommerne.
Allerede året efter blev han medlem af sin første gruppe, The Downbeats, som bl.a. spillede coverversioner af Beatles-sange. I 1964 skiftede de navn til The Blue Chips og udsendte flere singler, men uden succes.
Senere udviklede White sine musikalske evner i bl.a. Billy Furys backinggruppe The Gamblers og The Alan Price Set, og fik en vis grad af berømmelse i Ginger Baker's Air Force og Joe Cockers Mad Dogs & Englishmen, før han i 1972 overtog stolen som trommeslager i Yes.
Men forinden, i september 1969, fik han en opringning, der som han selv sagde, ændrede hans liv. Det var John Lennon, som havde set ham spille i en klub i London. Men White lagde røret på, idet han troede, at nogen prøvede at lave en joke med ham.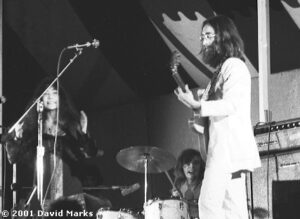 Alan White bag trommerne, med Lennon og Plastic Ono Band i Toronto
Men et minut senere ringede telefonen igen, og det var vitterlig John Lennon, som havde sagt ja til at spille en spontan koncert ved en rockfestival på Varsity Stadium i Toronto den 13. september 1969, og derfor var nødsaget til at samle et backingband til lejligheden. Kun dage senere fløj White med Lennon, samt Yoko Ono, Eric Clapton og bassisten Klaus Voormann, til Canada, hvor de første gang optrådte under navnet The Plastic Ono Band.
Gruppens optræden blev senere udsendt på albummet "Live Peace in Toronto 1969". Alan White spillede også tromme og klaver på Lennon-singlen "Instant Karma" i 1970, samt på de fleste sange på "Imagine"-albummet, deriblandt titelsangen.
Samarbejdet med Lennon førte til, at Alan White også medvirkede på George Harrisons tre-dobbelte album "All Things Must Pass", bl.a. på singlen "My Sweet Lord".
Alan White flyttede til USA i 1994 med sin kone Gigi, hvor han spillede i flere lokale grupper, mens han fortsatte medlemsskabet af Yes.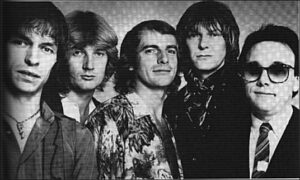 Yes – Alan White i midten
I 2017 blev White optaget i Rock and Roll Hall of Fame sammen med Yes, og spillede på gruppens seneste album, "The Quest", i 2021.
Modsat de fleste andre medlemmer af Yes, udsendte White kun ét soloalbum i eget navn, "Ramshackled", i 1976.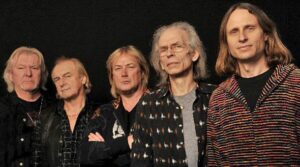 Yes i 2012 – Alan White nr. 2 fra venstre
Alan White døde den 26. maj 2022, og efterlader sig hustruen Gigi, samt to børn, sønnen Jesse og datteren Cassi.