af Karsten Jørgensen
Brian Wilson har, af helbredsmæssige årsager, aflyst en planlagt sommerturné i USA.
Efter flere rygoperationer inden for det seneste år, har Brian nu fulgt lægernes råd om hvile, for at få undersøgt problemerne til bunds.
"Vi ved endnu ikke, hvad det præcis er, men jeg ved, at det ikke er godt for mig, at være ude på landevejen netop nu", siger Brian Wilson i en pressemeddelelse.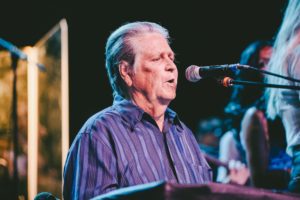 De aflyste koncerter i juni, som var de sidste med en fuld opførelse af det legendariske album "Pet Sounds" fra 1966, bliver ifølge pressemeddelelsen omlagt til et senere tidspunkt.
I mellemtiden håber Brian Wilson at blive frisk til den turné i august, under banneret "Something Great From '68", som er planlagt sammen med den engelske 1960'er-gruppe The Zombies, og hvor Wilson angiveligt vil koncentrere sig om at opføre albummet "Friends", som han udsendte sammen med resten af The Beach Boys i netop 1968.