af Karsten Jørgensen
Den tidligere amerikanske præsident Barack Obama har offentliggjort sin 'playliste' for sommeren 2021, dvs. en liste over de sange, han lytter mest til i denne tid, mens solen skinner.
Listen omfatter i alt 38 sange, og indeholder en del klassikere fra både 1960'erne og 1970'erne, bl.a. George Harrisons "My Sweet Lord", Bob Dylans "I'll Be Your Baby Tonight", The Rolling Stones' "Tumbling Dice", Joni Mitchells "Coyote" og Stevie Wonders "If You Really Love Me".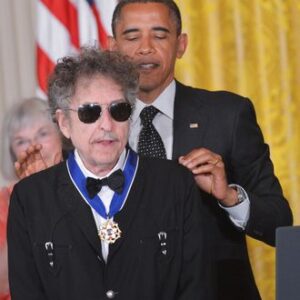 Præsident Obama overrækker Dylan USAs højeste civile orden, Medal of Freedom, i Det Hvide Hus i 2012
De øvrige sange på listen spænder fra gamle evergreens med Ella Fitzgerald, Louis Armstrong og Miles Davis, over Chicago, Bob Marley og Simply Red til Rihanna og Jay-Z, samt helt nye navne som hip-hop trioen Migos.
Obama har offentliggjort en sommer 'playliste' siden 2015, og fornylig indviede han også offentligheden i, hvilke sange han helst lytter til, når han er i bad – bl.a. Bruce Springsteens "Born To Run".
Hele Barack Obamas sommer 'playliste' kan streames på Spotify.