af Karsten Jørgensen
I 1973 udsendte Apple Records og EMI/Capitol to opsamlingsplader med The Beatles, begge dobbeltalbums og med titlerne "1962-1966" og "1967-1970".
Sangene på de to plader spændte over hele gruppens karriere fra 1962 til 1970, og var en reaktion på to dobbelte piratplader med titlen "Alpha Omega, Volumes I & II: The Story of The Beatles", som kort tid forinden blev annonceret på tv og sendt via postordre i USA, hvor de solgte som varmt brød.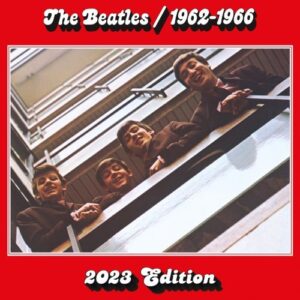 De to "officielle" dobbeltplader fra Apple, var på forsiden af omslaget prydet med Angus McBeans ikoniske fotografier af gruppen, hvor de stod på trappen udenfor EMIs hovedkvarter på Manchester Square i London, taget i samme positur i henholdsvis 1963 og 1969, og da rammen rundt om billederne var rød og blå, blev de to albums hurtigt kendt som "det røde" og "det blå" dobbeltalbum.
Nu, 50 år senere, genudsendes disse opsamlinger, både i nye remix og udvidet med en del sange, som ikke var med på de oprindelige. Også den 'nye' single "Now And Then", der udkom 3. november, er med (på "det blå" album).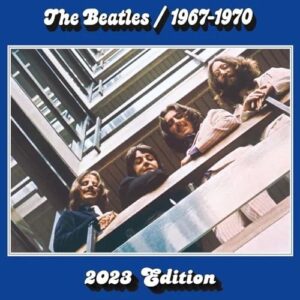 De to opsamlinger udsendes i dag, den 10. november, både som dobbelt-cd'er og som tre-dobbelte vinylplader. "Det røde" album er udvidet med 12 ekstra sange, "det blå" med 9, men mærkeligt nok er der ikke fundet plads til de to "nye" Beatles-singler fra 1995 og 1996, "Free As A Bird" og "Real Love".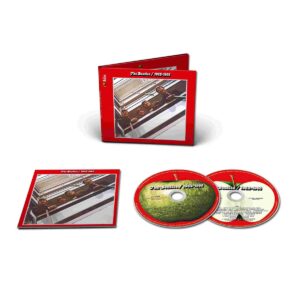 Trackliste for "det røde" album, "1962-1966":
CD 1:
Love Me Do (2023 Mix)
Please Please Me (2023 Mix)
I Saw Her Standing There (2023 Mix) *
Twist And Shout (2023 Mix) *
From Me To You (2023 Mix)
She Loves You (2023 Mix)
I Want To Hold Your Hand (2023 Mix)
This Boy (2023 Mix) *
All My Loving (2023 Mix)
Roll Over Beethoven (2023 Mix) *
You Really Got A Hold On Me (2023 Mix) *
Can't Buy Me Love (2023 Mix)
You Can't Do That (2023 Mix) *
A Hard Day's Night (2023 Mix)
And I Love Her (2023 Mix)
Eight Days A Week (2023 Mix)
I Feel Fine (2023 Mix)
Ticket To Ride (2023 Mix)
Yesterday (2023 Mix)
CD 2:
Help! (2023 Mix)
You've Got To Hide Your Love Away (2023 Mix)
We Can Work It Out (2023 Mix)
Day Tripper (2023 Mix)
Drive My Car (2023 Mix)
Norwegian Wood (This Bird Has Flown) (2023 Mix)
Nowhere Man (2023 Mix)
Michelle (2023 Mix)
In My Life (2023 Mix)
If I Needed Someone (2023 Mix) *
Girl (2023 Mix)
Paperback Writer (2022 Mix)
Eleanor Rigby (2022 Mix)
Yellow Submarine (2022 Mix)
Taxman (2022 Mix) *
Got To Get You Into My Life (2022 Mix) *
I'm Only Sleeping (2022 Mix) *
Here, There And Everywhere (2022 Mix) *
Tomorrow Never Knows (2022 Mix) *
*nye sange på 2023-versionen
Trackliste for "det blå" album, "1967-1970":
CD 1:
Strawberry Fields Forever (2015 Stereo Mix / 2023 Dolby Atmos Mix)
Penny Lane (2017 Mix)
Sgt. Pepper's Lonely Hearts Club Band (2017 Mix)
With A Little Help From My Friends (2017 Mix)
Lucy In The Sky With Diamonds (2017 Mix)
Within You Without You (2017 Mix) *
A Day In The Life (2017 Mix)
All You Need Is Love (2015 Stereo Mix / 2023 Dolby Atmos Mix)
I Am The Walrus (2023 Mix)
Hello, Goodbye (2015 Stereo Mix / 2023 Dolby Atmos Mix)
The Fool On The Hill (2023 Mix)
Magical Mystery Tour (2023 Mix)
Lady Madonna (2015 Stereo Mix / 2023 Dolby Atmos Mix)
Hey Jude (2015 Stereo Mix / 2023 Dolby Atmos Mix)
Revolution (2023 Mix)
CD 2:
Back In The U.S.S.R. (2018 Mix)
Dear Prudence (2018 Mix) *
While My Guitar Gently Weeps (2018 Mix)
Ob-La-Di, Ob-La-Da (2018 Mix)
Glass Onion (2018 Mix) *
Blackbird (2018 Mix) *
Hey Bulldog (2023 Mix) *
Get Back (2015 Stereo Mix / 2023 Dolby Atmos Mix)
Don't Let Me Down (2021 Mix)
The Ballad Of John And Yoko (2015 Stereo Mix / 2023 Dolby Atmos Mix)
Old Brown Shoe (2023 Mix)
Here Comes The Sun (2019 Mix)
Come Together (2019 Mix)
Something (2019 Mix)
Octopus's Garden (2019 Mix)
Oh! Darling (2019 Mix) *
I Want You (She's So Heavy) (2019 Mix) *
Let It Be (2021 Mix)
Across The Universe (2021 Mix)
I Me Mine (2021 Mix) *
The Long And Winding Road (2021 Mix)
Now And Then *
*nye sange på 2023-versionen