af Karsten Jørgensen
Når 79-årige Ringo Starr den 25. oktober udsender sit 20. soloalbum, kan man teknisk set tale om en gendannelse af The Beatles, for en af sangene, "Grow Old With Me", har alle fire en andel i.
'Teknisk set' skal tages meget bogstaveligt, da både John Lennon og George Harrison har været døde i mange år, og kun Ringo og Paul McCartney har fysisk været tilstede ved indspilningen af sangen. Men da "Grow Old With Me" er skrevet af Lennon og et brudstykke af Harrisons "Here Comes The Sun" høres i slutningen af sangen, kan man med god vilje sige, at alle fra The Beatles er med.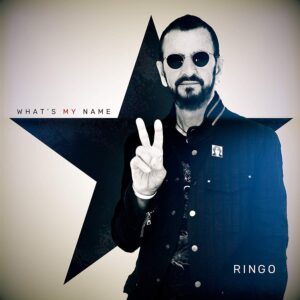 Ringos nye album, med titlen "What's My Name", er indspillet i Roccabella West, Ringos hjemmestudie i Los Angeles, og foruden "Grow Old With Me", hvor Ringo på forskellig vis får assistance fra de øvrige beatler, er pladen lavet efter den gamle formel, som har fulgt ham gennem hele hans solokarriere: 'with a little help from my friends'.
Blandt de medvirkende musikere er Eagles-medlemmet og Ringos svoger Joe Walsh, Benmont Tench fra The Heartbreakers, Edgar Winter, Toto-guitaristen Steve Lukather og Richard Page fra Mr. Mister, der alle – undtagen Tench – på forskellige tidspunkter har været medlemmer af Ringos turné-band The All-Starr Band.
"Grow Old With Me" er en sang, John Lennon skrev og lavede en demo-version af under indspilningen af hans og Yoko Onos seneste album, "Double Fantasy", i 1980. Senere bad Ono Elton John om at gøre sangen færdig til udgivelse, men han afviste, og i 1984 udkom den originale demo, med klaver og rytmeboks, på det posthume album "Milk And Honey". I 1994 var "Grow Old With Me" én af fire Lennon-sange, som de tre øvrige beatler overvejede at indspille til det store "Anthology"-projekt, og i 1998 lavede produceren George Martin en orkestreret version af sangen, som blev udsendt på "The John Lennon Anthology" bokssættet.
Det er derfor svært at tro på Ringo, når han hævder, at han slet ikke kendte til demo-versionen af "Grow Old With Me", før produceren Jack Douglas, som arbejdede på "Double Fantasy", spillede den for ham.
"Jack spurgte, om jeg havde hørt The Bermuda Tapes, Johns demoer fra den periode", siger Ringo. "Og jeg havde aldrig hørt om dem…Men jeg elskede denne sang med det samme, og jeg synger den, så godt jeg kan".
"En anden god ting er, at jeg virkelig ønskede Paul skulle spille på den, og han sagde ja. Han spiller bas og synger lidt sammen med mig".
"Så, på en måde er John med, jeg er med og Paul er med. Det er ikke bare et reklamestunt…Og strygerne, som Jack har arrangeret på sangen…Hvis man lytter godt efter, er der en bid fra Harrisons 'Here Comes The Sun'. Så på en måde er det os alle fire".
Ringo og Paul McCartney har flere gange arbejdet sammen siden opløsningen af The Beatles, senest i 2017 på Ringos album "Give More Love". Og bortset fra "Grow Old With Me", er der også en anden reference til John Lennon. Ringo har indspillet en version af Barrett Strongs "Money (That's What I Want)", en sang, som John Lennon plejede at synge i tiden med The Beatles, der i øvrigt udsendte deres egen udgave af sangen på albummet "With The Beatles" i 1963.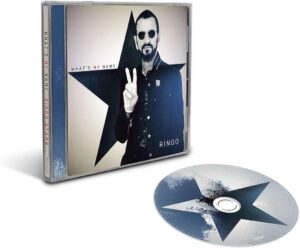 "What's My Name" udkommer på Roccabella/Universal Music Enterprises som både cd, vinyl og på blå vinyl i begrænset oplag.
Trackliste for "What's My Name":
1. Gotta Get Up to Get Down
2. Its Not Love That You Want
3. Grow Old With Me
4. Magic
5. Money (That's What I Want)
6. Better Days
7. Life Is Good
8. Thank God for Music
9. Send Love Spread Peace
10. What's My Name