af Karsten Jørgensen
Lizzie Bravo, en brasiliansk såkaldt 'Apple Scruff', der som 16-årig blev inviteret indenfor i Abbey Road-studiet af Paul McCartney og sang kor på The Beatles' indspilning af "Across The Universe", er død i sit hjemland af hjertestop, 70 år gammel.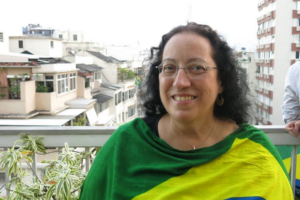 I stedet for en almindelig gave ved skoleafslutningen i 1967, fik Lizzie sine forældre til at give sig en flybillet til London, hvor hun tog til i slutningen af 1967 med håbet om at møde sine idoler, The Beatles.
Samme år havde The Beatles dannet deres eget pladeselskab, Apple, og 'Apple Scruffs' blev betegnelsen for de ekstremt dedikerede Beatles-fans, de fleste helt unge piger, som døgnet rundt tog opstilling udenfor indgangen til EMI-studierne på Abbey Road i London-kvarteret St. John's Wood, i håb om at se medlemmerne af The Beatles og, hvis de var heldige, få en snak med dem, eller en autograf.
"Allerede samme dag hun ankom, tog hun direkte ud til Abbey Road", har Lizzies datter Marya Bravo fortalt. Og dér opholdt hun sig konstant, bogstavelig talt, de følgende tre år.
De mest kendte 'Apple Scruffs' var Lizzie Bravo og hendes et år ældre veninde Gayleen Pease, og den 14. februar 1968, hvor The Beatles var samlet i studiet og indspillede en Lennon-komposition, "Across The Universe", manglede de nogen til at synge kor.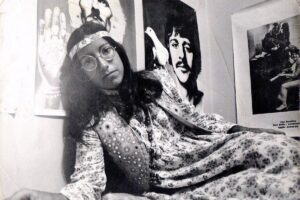 Da de ikke umiddelbart kunne få fat i professionelle sangere, tog Paul McCartney chancen og spurgte pigerne udenfor porten om nogle af dem kunne holde en høj tone. Og det mente Lizzie og Gayleen at de kunne.
"De viste os sangen og teksten, og vi var der i mere end to timer", huskede Lizzie Bravo senere.
"Across The Universe" blev sidenhen udsendt i to versioner. Den, som Lizzie og Gayleen medvirkede på, blev indledt og afsluttet med fuglekvidder og udsendt på "No One's Gonna Change Our World", et velgørenhedsalbum med forskellige kunstnere til fordel for World Wildlife Fund, i december 1969. En anden version af "Across The Universe", produceret af Phil Spector uden fuglesang og uden pigernes stemmer i baggrunden, blev udsendt på The Beatles' sidste album "Let It Be" i maj 1970.
Albummet 'No One's Gonna Change Our World'
Kort tid senere skrev George Harrison en hyldest til disse fans, sangen "Apple Scruffs", som blev udsendt på hans tredobbelte album "All Things Must Pass" i 1970.
I 1984 udgav Lizzie Bravo sine erindringer fra tiden som 'Apple Scruff' i bogen "Waiting For The Beatles". Senere udgav hun endnu en bog, "Do Rio a Abbey Road" (Fra Rio til Abbey Road), med fotos, som kun udkom i Brasilien.
Lizzie Bravo døde den 4. oktober, og ved et pudsigt sammentræf har det vist sig, at den anden pige på "Across The Universe", Gayleen Pease, døde i England tidligere på året, i juni.