af Karsten Jørgensen
John Lennons første rigtige soloalbum fra 1970, "John Lennon/Plastic Ono Band", bliver nu udgivet i en lettere forsinket 50-års jubilæumsudgave.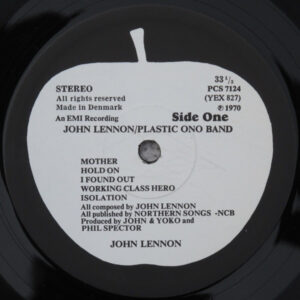 Side 1 på den danske udgave af 'John Lennon/Plastic Ono Band*
Albummet, der i væsentlig grad var inspireret af Johns oplevelser med primal-terapi hos psykiateren Arthur Janov, bliver generelt betragtet som Lennons bedste soloalbum, og har gennem årene fået høje placeringer på mange førende musikmagasiners lister over alletiders bedste rockplader.
Således var pladen i 1987 nr. 4 på Rolling Stone's liste over "De 100 Bedste Albums fra de sidste tyve år", og i 2012 var det placeret som nr. 23 på samme medies liste over "500 Greatest Albums of All Time".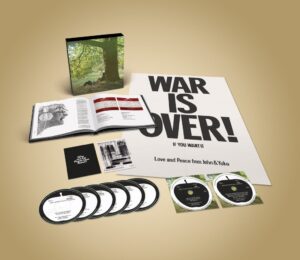 Bokssættet, 6 cd'er og 2 bluray + en bog
Genudgivelsen, som finder sted den 16. april, bliver et bokssæt med otte skiver under titlen "John Lennon/Plastic Ono Band: The Ultimate Collection", og består af 6 cd'er og 2 bluray.
Det oprindelige albums 11 sange, deriblandt singlen "Mother" og markante numre som "Working Class Hero", "Love" og "Isolation", er på bokssættet vokset til 159 numre på cd'erne og 131 på de to bluray – nye mix, uudgivne demoer, studie-outtakes osv.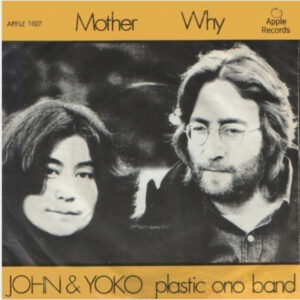 Den danske udgave af singlen "Mother", 1970
Lennon indspillede albummet i september og oktober 1970, co-produceret af ham selv, Yoko Ono og Phil Spector, og med en perlerække af tidens ypperste musikere, som Ringo Starr, Klaus Voormann og Billy Preston.
Trackliste for "John Lennon/Plastic Ono Band: The Ultimate Collection":
CD 1: The Ultimate Mixes
Mother (Ultimate Mix) 5:35 +
Hold On (Ultimate Mix) 1:52 +
I Found Out (Ultimate Mix) 3:37 +
Working Class Hero (Ultimate Mix) 3:47 +
Isolation (Ultimate Mix) 2:52 +
Remember (Ultimate Mix) 4:32 +
Love (Ultimate Mix) 3:22 +
Well Well Well (Ultimate Mix) 5:57 +
Look At Me (Ultimate Mix) 2:53 +
God (Ultimate Mix) 4:12 +
My Mummy's Dead (Ultimate Mix) 0:51 +
Give Peace A Chance (Ultimate Mix) 4:54
Cold Turkey (Ultimate Mix) 5:02
Instant Karma! (We All Shine On) (Ultimate Mix) 3:20
CD 2: The Ultimate Mixes – Outtakes
Mother (Take 61 / Out-take / Ultimate Mix) 4:18 +
Hold On (Take 2 / Out-take / Ultimate Mix) 2:11 +
I Found Out (Take 1 / Out-take / Ultimate Mix) 3:46 +
Working Class Hero (Take 1 / Out-take / Ultimate Mix) 3:50 +
Isolation (Take 23 / Out-take / Ultimate Mix) 2:51 +
Remember (Rehearsal 1 / Out-take / Ultimate Mix) 3:11 +
Love (Take 6 / Out-take / Ultimate Mix) 2:36 +
Well Well Well (Take 2 / Out-take / Ultimate Mix) 3:34 +
Look At Me (Take 2 / Out-take / Ultimate Mix) 2:50 +
God (Take 27 / Out-take / Ultimate Mix) 4:05 +
My Mummy's Dead (Take 2 / Out-take / Ultimate Mix) 1:15 +
Give Peace A Chance (Take 2 / Out-take / Ultimate Mix) 6:00
Cold Turkey (Take 1 / Out-take / Ultimate Mix) 5:23
Instant Karma! (We All Shine On) (Take 5 / Out-take / Ultimate Mix) 2:53
CD 3: The Elements Mixes
Mother (Elements Mix) 4:59
Hold On (Elements Mix) 1:52
I Found Out (Elements Mix) 5:25
Working Class Hero (Elements Mix) 3:10
Isolation (Elements Mix) 2:44
Remember (Elements Mix) 8:38
Love (Elements Mix) 5:39
Well Well Well (Elements Mix) 5:57
Look At Me (Elements Mix) 2:56
God (Elements Mix) 4:09
My Mummy's Dead (Elements Mix) 0:53
Give Peace A Chance (Elements Mix) 4:54
Cold Turkey (Elements Mix) 5:02
Instant Karma! (We All Shine On) (Elements Mix) 3:20
CD 4: The Raw Studio Mixes
Mother (Take 64 / Raw Studio Mix) 5:12
Hold On (Take 32 / Raw Studio Mix) 1:51
I Found Out (Take 3 / Extended / Raw Studio Mix) 5:34
Working Class Hero (Take 9 / Raw Studio Mix) 4:07
Isolation (Take 29 / Raw Studio Mix) 2:52
Remember (Take 13 / Raw Studio Mix) 4:58
Love (Take 37 / Raw Studio Mix) 4:27
Well Well Well (Take 4 / Extended / Raw Studio Mix) 6:47
Look At Me (Take 9 / Raw Studio Mix) 3:07
God (Take 42 / Raw Studio Mix) 4:26
My Mummy's Dead (Take 1 / Raw Studio Mix) 0:53
Give Peace A Chance (Take 4 / Extended / Raw Studio Mix) 6:34
Cold Turkey (Take 2 / Raw Studio Mix) 5:06
Instant Karma! (We All Shine On) (Take 10 / Raw Studio Mix) 3:31
Mother (Take 91/ Raw Studio Mix)
I Found Out (Take 7 / Raw Studio Mix)
God (Take 1 / Raw Studio Mix)
CD 5: The Evolution Documentary
Mother (Evolution Documentary) 9:16
Hold On (Evolution Documentary) 8:46
I Found Out (Evolution Documentary) 6:01
Working Class Hero (Evolution Documentary) 3:34
Isolation (Evolution Documentary) 9:39
Remember (Evolution Documentary) 7:01
Love (Evolution Documentary) 7:36
Well Well Well (Evolution Documentary) 4:50
Look At Me (Evolution Documentary) 5:51
God (Evolution Documentary) 8:09
My Mummy's Dead (Evolution Documentary) 1:36
CD 6: The Jams & The Demos
Johnny B. Goode (Jam) 1:02
Ain't That A Shame (Jam) 1:54
Hold On (Jam 1) 2:22
Hold On (Jam 2) 1:36
Glad All Over (Jam) 1:12
Be Faithful To Me (Jam) 0:44
Send Me Some Lovin' (Jam) 1:05
Get Back (Jam) 1:05
Lost John (Jam 1) 1:55
Goodnight Irene (Jam)1:50
You'll Never Walk Alone (Jam) 1:43
I Don't Want To Be A Soldier Mama, I Don't Wanna Die (Jam 1) 3:30
It'll Be Me (Jam) 1:07
Honey, Don't! (Jam) 1:39
Elvis Parody (Don't Be Cruel, Hound Dog, When I'm Over You) (Jam) 2:48
Matchbox (Jam) 1:57
I've Got A Feeling (Jam) 0:19
Mystery Train (Jam) 2:44
(You're So Square) Baby I Don't Care (Jam) 0:28
I Don't Want To Be A Soldier Mama, I Don't Wanna Die (Jam 2) 1:46
Lost John (Jam 2) 0:48
Don't Worry Kyoko (Mummy's Only Looking For A Hand In The Snow) (Jam) 2:06
Mother (Home Demo) 5:00
Hold On (Studio Demo) 2:17
I Found Out (Home Demo) 4:08
Working Class Hero (Studio Demo) 3:50
Isolation (Studio Demo) 2:55
Remember (Studio Demo) 5:24
Love (Home Demo) 2:38
Well Well Well (Home Demo) 1:15
Look At Me (Home Demo) 2:48
God (Home Demo) 3:51
My Mummy's Dead (Home Demo) 1:18
Blu-rays:
THE ULTIMATE MIXES (53 mins)
Mother
Hold On
I Found Out
Working Class Hero
Isolation
Remember
Love
Well Well Well
Look At Me
God
My Mummy's Dead
Give Peace A Chance
Cold Turkey
Instant Karma! (We All Shine On)
THE ULTIMATE MIXES / THE OUT-TAKES (49 mins)
Mother / Take 61
Hold On / Take 2
I Found Out / Take 1
Working Class Hero / Take 1
Isolation / Take 23
Remember / Rehearsal 1
Love / Take 6
Well Well Well / Take 2
Look At Me / Take 2
God / Take 27
My Mummy's Dead / Take 2
Give Peace A Chance / Take 2
Cold Turkey / Take 1
Instant Karma! (We All Shine On) / Take 5
THE ELEMENTS MIXES (60 mins)
Mother
Hold On
I Found Out
Working Class Hero
Isolation
Remember
Love
Well Well Well
Look At Me
God
My Mummy's Dead
Give Peace A Chance
Cold Turkey
Instant Karma! (We All Shine On)
THE DEMOS (45 mins)
Mother (Home Demo)
Hold On (Studio Demo)
I Found Out (Home Demo)
Working Class Hero (Studio Demo)
Isolation (Studio Demo)
Remember (Studio Demo)
Love (Home Demo)
Well Well Well (Home Demo)
Look At Me (Home Demo)
God (Home Demo)
My Mummy's Dead (Home Demo)
Give Peace A Chance (Home Demo)*
Cold Turkey (Home Demo)*
Instant Karma! (Studio Demo)*
THE RAW STUDIO MIXES (59 mins)
Mother / Take 64
Hold On / Take 32
I Found Out / Take 3 Extended
Working Class Hero / Take 9
Isolation / Take 29
Remember / Take 13
Love / Take 37
Well Well Well / Take 4 Extended
Look At Me / Take 9
God / Take 42
My Mummy's Dead / Take 1
Give Peace A Chance / Take 4 Extended
Cold Turkey / Take 2
Instant Karma! (We All Shine On) / Take 10
THE RAW STUDIO MIXES / THE OUT-TAKES (50 mins)
Mother / Take 91
Hold On / Take 18*
I Found Out / Take 7
Working Class Hero / Take 10*
Isolation / Take 1*
Remember / Take 1*
Love / Take 9*
Well Well Well / Take 5*
Look At Me / Take 3*
God / Take 1
My Mummy's Dead / Take 2*
Give Peace A Chance / Take 4*
Cold Turkey / Take 2*
Instant Karma! (We All Shine On) / Take 5*
THE EVOLUTION DOCUMENTARY (93 mins)
Mother
Hold On
I Found Out
Working Class Hero
Isolation
Remember
Love
Well Well Well
Look At Me
God
My Mummy's Dead
Give Peace A Chance*
Cold Turkey*
Instant Karma (We All Shine On)*
THE JAMS / LIVE AND IMPROVISED (36 mins)
Johnny B. Goode
Ain't That A Shame
Hold On (1)
Hold On (2)
Glad All Over
Be Faithful To Me
Send Me Some Lovin'
Get Back
Lost John (1)
Goodnight Irene
You'll Never Walk Alone (Parody)
I Don't Want To Be To be A Soldier Mama I Don't Wanna Die (1)
It'll Be Me
Honey Don't
Elvis Parody (Don't Be Cruel / Hound Dog / When I'm Over You)
Matchbox
I've Got A Feeling
Mystery Train
You're So Square
I Don't Want To Be A Soldier Mama I Don't Wanna Die (2)
Lost John (2)
Don't Worry Kyoko (Mummy's Only Looking For A Hand In The Snow)
YOKO ONO / PLASTIC ONO BAND – THE LIVE SESSIONS (110 mins)
Why*
Why Not*
Greenfield Morning I Pushed An Empty Carriage All Over The City*
Touch Me*
Paper Shoes*
Life*
Omae No Okaa Wa*
I Lost Myself Somewhere In The Sky*
Remember Love*
Don't Worry Kyoko*
Who Has Seen The Wind*
(*) kun på bluray