af Karsten Jørgensen
Guitaristen Jimmy McCulloch, der er kendt for sin korte periode som medlem af Paul McCartneys gruppe Wings, blev født i den skotske by Dumbarton den 4. juni 1953, og ville således være fyldt 70 år i dag.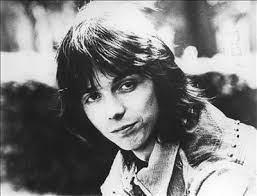 Jimmy McCulloch
I midten af 1960'erne var han medlem af The Jaygars, som senere skiftede navn til One In A Million, men berømmelse fik han først med gruppen Thunderclap Newman, som havde et nr. 1-hit med sangen "Something In The Air" i 1969.
Jimmy McCulloch, til højre, med Thunderclap Newman
I begyndelsen af 1970'erne spillede McCulloch med John Mayall & The Bluesbreakers og Stone The Crows, og arbejdede som studiemusiker for bl.a. Klaus Voormann, Harry Nilsson og John Entwistle.
I august 1974 afløste Jimmy McCulloch guitaristen Henry McCullough i McCartneys Wings. Han debuterede på singlen "Junior's Farm" og medvirkede på LP'erne "Venus And Mars", "Wings At The Speed of Sound" og livealbummet "Wings Over America", der dokumenterede gruppens store verdensturne i 1975-76.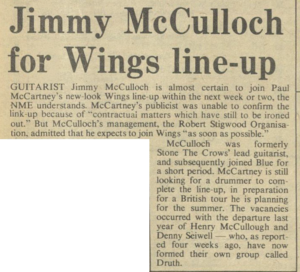 New Musical Express, 27. april 1974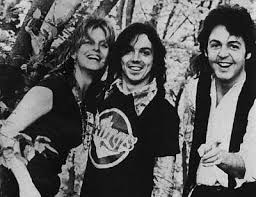 Jimmy McCulloch, midten, med Linda McCartney og Paul McCartney i Wings
I september 1977 forlod McCulloch igen Wings og blev i stedet medlem af de gendannede The Small Faces, som udsendte albummet "78 In The Shade" det følgende år. Men det blev et kort bekendtskab, og i 1978 og 1979 spillede McCulloch i grupperne Wild Horses og The Dukes.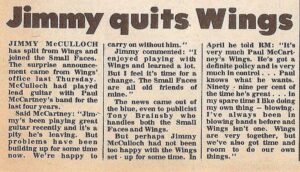 Jimmy McCulloch, som havde velkendte problemer med hårde stoffer, døde 27. september 1979, kun 26 år gammel, i sin lejlighed i London. Dødsårsagen var hjertestop, som følge af en overdosis af både morfin og alkohol.
I 2021 udsendte Paul Salley en biografi om McCulloch, "Little Wing: The Jimmy McCulloch Story".