af Karsten Jørgensen
Højdepunktet i George Harrisons solokarriere kom tidligt. Allerede med sit første rigtige soloudspil i slutningen af 1970, det tredobbelte album "All Things Must Pass" (som fulgte efter et instrumentalt soundtrack "Wonderwall Music" i 1968 og et synthesizer-eksperiment "Electronic Sound" det følgende år), satte han barren så højt for både sig selv, og andre, at han ikke sidenhen kom i nærheden af at lave et så helstøbt værk.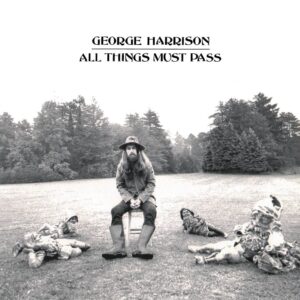 Det oprindelige tredobbelte album fra 1970
Albummet, som blev indspillet fra maj til oktober 1970 – umiddelbart efter den officielle opløsning af The Beatles – blev lavet i samarbejde med en sand perlerække af tidens mest efterspurgte musikere, bl.a. trommeslageren Ringo Starr, bassisten Klaus Voormann, keyboardspilleren Billy Preston og guitaristen Eric Clapton, og i producerstolen sad den legendariske Phil Spector, som netop havde gjort The Beatles' ellers skrinlagte optagelser til "Let It Be" klar til udgivelse og arbejdet med John Lennon på nogle soloudgivelser.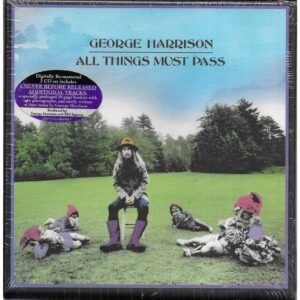 Genudgivelse på dobbelt-cd med farvelagt omslag, 2001
"All Things Must Pass" var på mange måder resultatet af, at George Harrison som sangskriver havde stået i skyggen af John Lennon og Paul McCartney gennem hele perioden i The Beatles, og da gruppen endelig gik hver til sit i april 1970, havde Harrison samlet et veritabelt skatkammer af uudgivne kompositioner.
"Isn't It A Pity" og "The Art of Dying" var skrevet tilbage i 1966, "I'd Have You Anytime" (en fælleskomposition med Bob Dylan) og "Let It Down" var fra 1968, mens "All Things Must Pass", "Hear Me Lord", "Let It Down", "Wah-Wah", "Run of the Mill", "What Is Life", "Behind That Locked Door" og "My Sweet Lord" alle var skrevet på forskellige tidspunkter i 1969.
Super Deluxe-udgaven med 5 cd'er, plus bluray
50 års-jubilæet sidste år for "All Things Must Pass" blev – uden plausibel forklaring – forbigået i stilhed, men den 6. august genudsendes værket i en stribe forskellige konstellationer, både med standard-udgaver på både vinyl og cd, samt Deluxe-udgave (5 LP eller 3 cd), Super Deluxe-udgave (8 LP eller 5 cd + bluray) og en såkaldt Uber Deluxe-udgave (med 8 LP + 5 cd + bluray, plus to bøger på hhv. 56 og 44 sider), sidstnævnte til en pris af godt 100 $.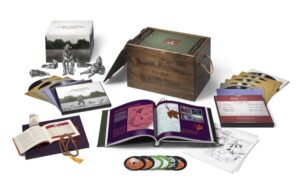 Uber Deluxe-udgaven
Den nye udgave er tilrettelagt af George Harrisons søn Dhani og lydteknikeren Paul Hicks, og Super Deluxe-udgaven indeholder i alt 70 sange. Det oprindelige albums 23 sange er suppleret med 47 demoer, outtakes og studie-jams, heraf flere hidtil uudgivne.
Trackliste for Super Deluxe-udgaven:
CD 1 – Main Album:
I'd Have You Anytime
My Sweet Lord
Wah-Wah
Isn't It A Pity (Version One)
What Is Life
If Not For You
Behind That Locked Door
Let It Down
Run Of The Mill
CD 2 – Main Album:
Beware Of Darkness
Apple Scruffs
Ballad Of Sir Frankie Crisp (Let It Roll)
Awaiting On You All
All Things Must Pass
I Dig Love
Art Of Dying
Isn't It A Pity (Version Two)
Hear Me Lord
Out Of The Blue *
It's Johnny's Birthday *
Plug Me In *
I Remember Jeep *
Thanks For The Pepperoni
* Newly Remastered/Original Mix
CD 3 – Day 1, Demos, 26th May 1970:
All Things Must Pass (Take 1) †
Behind That Locked Door (Take 2)
I Live For You (Take 1)
Apple Scruffs (Take 1)
What Is Life (Take 3)
Awaiting On You All (Take 1) †
Isn't It A Pity (Take 2)
I'd Have You Anytime (Take 1)
I Dig Love (Take 1)
Going Down To Golders Green (Take 1)
Dehra Dun (Take 2)
Om Hare Om (Gopala Krishna) (Take 1)
Ballad Of Sir Frankie Crisp (Let It Roll) (Take 2)
My Sweet Lord (Take 1) †
Sour Milk Sea (Take 1)
† hidtil uudgivne
CD 4 – Day 2, Demos, 27th May 1970:
Run Of The Mill (Take 1) †
Art Of Dying (Take 1)
Everybody/Nobody (Take 1)
Wah-Wah (Take 1)
Window Window (Take 1)
Beautiful Girl (Take 1)
Beware Of Darkness (Take 1)
Let It Down (Take 1)
Tell Me What Has Happened To You (Take 1)
Hear Me Lord (Take 1)
Nowhere To Go (Take 1)
Cosmic Empire (Take 1)
Mother Divine (Take 1)
I Don't Want To Do It (Take 1)
If Not For You (Take 1)
† hidtil uudgivne
CD 5 – Session Outtakes & Jams:
Isn't It A Pity (Take 14)
Wah-Wah (Take 1)
I'd Have You Anytime (Take 5)
Art Of Dying (Take 1)
Isn't It A Pity (Take 27)
If Not For You (Take 2)
Wedding Bells (Are Breaking Up That Old Gang Of Mine) (Take 1)
What Is Life (Take 1)
Beware Of Darkness (Take 8)
Hear Me Lord (Take 5)
Let It Down (Take 1)
Run Of The Mill (Take 36)
Down To the River (Rocking Chair Jam) (Take 1)
Get Back (Take 1)
Almost 12 Bar Honky Tonk (Take 1)
It's Johnny's Birthday (Take 1)
Woman Don't You Cry For Me (Take 5)
Blu-ray – Main Album in surround, Atmos, hi-res stereo:
I'd Have You Anytime
My Sweet Lord
Wah-Wah
Isn't It A Pity (Version One)
What Is Life
If Not For You
Behind That Locked Door
Let It Down
Run Of The Mill
Beware Of Darkness
Apple Scruffs
Ballad Of Sir Frankie Crisp (Let It Roll)
Awaiting On You All
All Things Must Pass
I Dig Love
Art Of Dying
Isn't It A Pity (Version Two)
Hear Me Lord
Out Of The Blue
It's Johnny's Birthday
Plug Me In
I Remember Jeep
Thanks For The Pepperoni