af Karsten Jørgensen
En biografisk film om Brian Epstein, den karismatiske manager, som førte The Beatles frem til verdensomspændende succes i begyndelsen af 1960'erne, er sat i produktion, og de egentlige filmoptagelser forventes at begynde senere i år, dels i Twickenham-studierne i London, samt på udvalgte locations i både Liverpool og USA.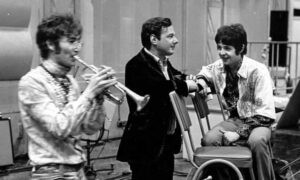 Brian Epstein i Abbey Road-studiet s.m. Lennon og McCartney, 1967
Filmen, som ikke er blåstemplet af hverken Epsteins familie eller de overlevende beatler, får titlen "Midas Man", og bliver instrueret af Jonas Akerlund, som tidligere har arbejdet med både Paul McCartney, Lady Gaga, Madonna, The Rolling Stones, Beyonce og Ozzy Osbourne, og har Jacob Fortune-Lloyd, kendt fra bl.a. filmen "The Queen's Gambit", i hovedrollen som Epstein.
"Det er et stort privilegium at spille Brian Epstein, som satte et vigtigt og varigt aftryk på vores kultur, men selv kæmpede med at finde sin egen plads i verden", siger Fortune-Lloyd.
Også Jonas Akerlund har høje tanker om Epstein.
"Historien om Brian Epstein har alt det, jeg leder efter i en historie", siger han til Deadline. "Det tiltaler mig, at Brian tilsyneladende vidste alt det, som ingen andre vidste; han så ting, som andre ikke så. Hans vision var fantastisk, og han skabte en hel kultur, som ikke fandtes".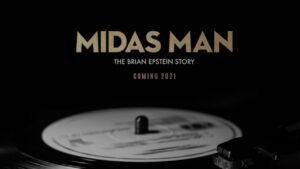 Brian Epstein, som var The Beatles' manager fra 1961 til 1967, levede en svær tilværelse som bøsse (i 1960'erne var homoseksualitet stadig strafbart i England), og døde af en overdosis piller i august 1967, kun 32 år gammel.