af Karsten Jørgensen
Modsat farmand Bruce, som er 'born to run', så er hans 29-årige datter Jessica Springsteen derimod 'born to ride'.
Jessica, som har redet heste siden hun var barn, er udtaget som en ud af fire til USA's olympiske hold i individuel ridebanespringning.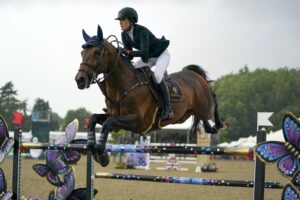 Jessica Springsteen ved et ridestævne i London tidligere i år
Hun deltog som suppleant ved de olympiske lege i London i 2012. I øjeblikket rangerer hun som den tredjebedste i sin disciplin i USA (nr. 27 på verdensplan), og hun deltager ved ridekonkurrencerne i Tokyo fra den 3. til 7. august.
Jessica er repræsenteret med den tolv år gamle belgiske varmblodshingst Don Juan van de Donkhoeve.