af Karsten Jørgensen
Den produktive amerikanskfødte engelske dirigent og komponist Carl Davis, som i 1991 hjalp Paul McCartney med at skrive hans første klassiske værk, "Liverpool Oratorio", er død, 86 år.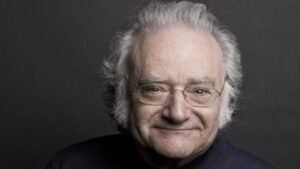 Davis, som komponerede musik til både film, fjernsyn og balletter, blev født i Brooklyn, New York, den 28. oktober 1936, og fik en musikalsk uddannelse ved både Queens College i New York og New England Conservatory of Music i Boston.
I slutningen af 1950'erne var han bl.a. assisterende dirigent ved New York City Opera og medkomponist til en revy, "Diversions". Efter Davis i begyndelsen af 1960'erne flyttede til London, skrev han musik til det satiriske tv-program "That Was The Week That Was", og det blev starten på en lang karriere i de kulturelle cirkler i Storbritannien.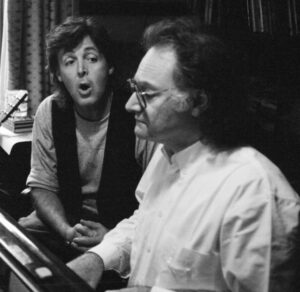 Carl Davis med Paul McCartney
Siden skrev han musik til en lang række tv-serier og film, med højdepunkter i "The French Lieutenant's Woman" i 1981, som indbragte Carl Davis både en Bafta- og en Ivor Novello-pris, og samarbejdet med Paul McCartney på "Liverpool Oratorio" ti år senere, som var baseret på McCartneys opvækst i Liverpool, og blev opført og indspillet i Liverpool Cathedral, med de klassiske solister Kiri Te Kanawa og Willard White i hovedrollerne.
I sine senere år, skrev Davis overvejende opera- og balletmusik, og i 2005 fik han en CBE-orden af den engelske dronning.
Carl Davis døde af en hjerneblødning den 3. august 2023, og efterlader sig hustruen Jean Boht, og to døtre, Hannah og Jessie.