af Karsten Jørgensen
Efter det musikalske højdepunkt i 1966 med mesterværket "Pet Sounds", efterfulgt af det følgende års ambitiøse, men ufærdige projekt "Smile", mistede Brian Wilson og The Beach Boys både pusten og en stor del af den goodwill, de havde opbygget hos deres publikum.
De følgende år lå Brian underdrejet, plaget af psykiske problemer og stof- og alkoholmisbrug, og var i bedste fald kun aktiv på halv eller kvart tid, og de plader, The Beach Boys udsendte – "Smiley Smile", "Wild Honey", "Friends" og "20/20" – var ujævne, uinspirerede og havde svært ved at appellere til tidens smag og strømninger.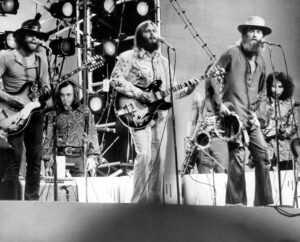 The Beach Boys ved en koncert i Central Park, New York, 1971
En delvis rehabilitering fandt dog sted i 1970-1971 med albummene "Sunflower" og "Surf's Up", der i højere grad var egentlige gruppeprojekter, i modsætning til tidligere, hvor Brian Wilson næsten enevældigt havde domineret gruppens kreativitet og retning. Der var væsentlige bidrag fra både Brian ("'Til I Die" og "This Whole World"), Carl Wilson ("Long Promised Road"), Bruce Johnston ("Disney Girl"), og ikke mindst viste disse plader også, hvor meget Brians anden lillebror Dennis var vokset som sangskriver, tydeligst med sangen "Forever". Samtidig var temaerne med kærlighed og sol og sommer delvis udskiftet med sange som "Don't Go Near The Water" og "The Day In The Life of a Tree", som viste en 1960'er-gruppe, der bekymrede sig om natur og miljø.
På et nyt bokssæt bliver denne periode nu sat under lup og revurderet. "Feel Flows: The Sunflower & Surf's Up Sessions 1969-1971" udsendes den 27. august af Capitol/UME, både som dobbelt cd, dobbelt vinyl, firedobbelt vinyl og en deluxe-udgave med 5 cd'er.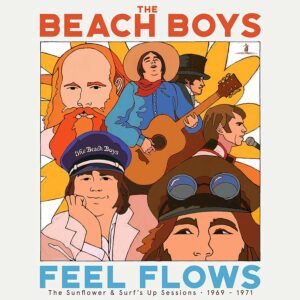 Deluxe-udgaven, som består af i alt 133 sange, indeholder remasterede versioner af "Sunflower" og "Surf's Up", plus live-versioner, alternative versioner, samt en del hidtil uudgivne sange fra denne periode, som var betydelig mere kreativ, end salgstallene fra den pågældende tid lod ane. En kuriøsitet er bl.a. The Beach Boys' version af sangen "Seasons In The Sun", der nogle år senere var et stort hit for Terry Jacks.
Trackliste for deluxe-udgaven af "Feel Flows: The Sunflower & Surf's Up Sessions 1969-1971":
CD 1:
Sunflower:
Slip On Through (2019 master) (2:19)
This Whole World (2019 master) (1:58)
Add Some Music To Your Day (2019 master) (3:36)
Got To Know The Woman (2019 master) (2:43)
Deirdre (2019 master) (3:30)
It's About Time (2019 master) (2:57)
Tears In The Morning (2019 master) (4:07)
All I Wanna Do (2019 master) (2:36)
Forever (2019 master) (2:42)
Our Sweet Love (2019 master) (2:41)
At My Window (2019 master) (2:32)
Cool, Cool Water (2019 master) (5:03)
Sunflower Promo 1 (previously unreleased) (0:59)
Sunflower Live:
This Whole World (Live 1988) (2:10) [Sunflower Live]
Add Some Music To Your Day (Live 1993) (3:23) [Sunflower Live]
Susie Cincinnati (Live 1976) (2 :46) [Sunflower Live]
Back Home (Live 1976) (3:15) [Sunflower Live]
It's About Time (Live 1971) (3:45) [Sunflower Live]
Riot In Cell Block 9 (Live 1970) (3:34) [Sunflower Live]
Bonus Tracks:
Break Away (original 1969 single mix) (2:55)
Celebrate The News (previously unreleased 2020 mix) (2:37)
Loop De Loop (previously unreleased 1969 mix) (2:59)
San Miguel (previously unreleased 2020 mix) (2:33)
Susie Cincinnati (previously unreleased 2020 mix) (3:02)
Good Time (previously unreleased 2019 mix) (2:56)
Two Can Play (previously unreleased 2019 mix) (2:06)
Cotton Fields (The Cotton Song) (2021 stereo mix – previously unreleased) (3:21)
CD 2:
Surf's Up:
Don't Go Near The Water (2019 master) (2:41)
Long Promised Road (2019 master) (3:32)
Take A Load Off Your Feet (2019 master) (2:32)
Disney Girls (1957) (2019 master) (4:08)
Student Demonstration Time (2019 master) (3:59)
Feel Flows (2019 master) (4:44)
Lookin' At Tomorrow (A Welfare Song) (2019 master) (1:57)
A Day In The Life Of A Tree (2019 master) (3:09)
Til I Die (2019 master) (2:32)
Surf's Up (2019 master) (4:14)
Surf's Up Promo (previously unreleased) (1:02)
Surf's Up Live:
Take A Load Off Your Feet (Live 1993) (2:35)
Long Promised Road (Live 1972) (4:14)
Disney Girls (Live 1982) (4:23)
Surf's Up (Live 1973) (4:58)
Student Demonstration Time (Live 1971) (4:42)
Bonus Tracks:
Big Sur (previously unreleased) (2:35)
HELP Is On The Way (previously unreleased 2019 mix) (2:31)
Sweet And Bitter (previously unreleased) (2:33)
My Solution (previously unreleased) (3:44)
4th of July (2019 mix – previously unreleased) (3:11)
Sound of Free (1970 single mix, 2019 master) (2:22)
Lady (Fallin' In Love) (1970 stereo mix – previously unreleased) (2:21)
Seasons In The Sun (previously unreleased) (3:27)
CD 3:
The Sunflower Sessions:
Sunflower Promo 2 (previously unreleased) (0:59)
Slip On Through (track and backing vocals – previously unreleased) (2:47)
This Whole World (long version track & backing vocals – previously unreleased) (3:10)
Add Some Music To Your Day (track and backing vocals – previously unreleased) (4:35)
Deirdre (track – previously unreleased) (3:34)
It's About Time (track & backing vocals – previously unreleased) (2:53)
Tears In The Morning (track & backing vocals – previously unreleased) (4:08)
All I Wanna Do (session intro, track & backing vocals – previously unreleased) (3:46)
Forever (session highlights – previously unreleased) (3:36)
Forever (track & backing vocals – previously unreleased) (3:01)
Our Sweet Love (track & backing vocals – previously unreleased) (2:39)
At My Window (track & backing vocals – previously unreleased) (2:50)
Cool Cool Water (alternate 2019 mix – previously unreleased) (6:24)
San Miguel (track & backing vocals – previously unreleased) (2:57)
Loop De Loop (track – previously unreleased) (2:49)
Good Time (session intro, track & backing vocals – previously unreleased) (4:27)
When Girls Get Together (track – previously unreleased) (1:47)
Slip On Through (alternate 1969 mix with session intro – previously unreleased) (3:25)
Our Sweet Love (string section – previously unreleased) (1:00)
San Miguel (backing vocals excerpt – previously unreleased) (1:00)
Break Away (Tag) (backing vocals excerpt – previously unreleased) (0:18)
Cotton Fields (The Cotton Song) (a Cappella – previously unreleased) (2:44)
Good Time (backing vocals excerpt – previously unreleased) (0:19)
This Whole World (backing vocals section – previously unreleased) (1:05)
Add Some Music To Your Day (a cappella – previously unreleased) (3:30)
Got To Know The Woman (a cappella – previously unreleased) (2:52)
It's About Time (backing vocals excerpt – previously unreleased) (0:50)
All I Wanna Do (a cappella – previously unreleased) (2:58)
Forever (previously unreleased 2019 a cappella mix) (2:52)
CD 4:
The Surf's Up Sessions:
Don't Go Near The Water (track & backing vocals – previously unreleased) (3:45)
Long Promised Road (track & backing vocals – previously unreleased) (3:38)
Take A Load Off Your Feet (alternate vocal – previously unreleased) (2:28)
Disney Girls (1957) (track & backing vocals – previously unreleased) (4:17)
Student Demonstration Time (track & backing vocals – previously unreleased) (3:46)
Feel Flows (track & backing vocals – previously unreleased) (5:02)
Lookin' At Tomorrow (A Welfare Song) (session intro and alternate mix – previously unreleased) (2:43)
A Day In The Life Of A Tree (track & backing vocals – previously unreleased) (2:55)
Til I Die (long version with alternate lyrics – previously unreleased) (4:47)
Surf's Up (2019 mix – previously unreleased) (4:08)
(Wouldn't It Be Nice To) Live Again (extended 2019 – previously unreleased) (6:50)
Don't Go Near The Water (previously unreleased 2020 a cappella mix) (2:36)
Long Promised Road (a cappella – previously unreleased) (4:00)
Feel Flows (backing vocals excerpt – previously unreleased) (0:33)
Disney Girls (backing vocals excerpt – previously unreleased) (0:36)
A Day In The Life Of A Tree (backing vocals excerpt – previously unreleased) (0:32)
Til I Die (a cappella – previously unreleased) (2:36)
Surf's Up (a cappella – previously unreleased) (4:04)
Bonus Tracks:
I Just Got My Pay (previously unreleased 2019 mix) (2:43)
Walkin' (previously unreleased 2019 mix) (2:44)
When Girls Get Together (previously unreleased 2020 mix) (3:45)
Baby Baby (previously unreleased) (3:13)
Awake (previously unreleased) (3:44)
It's A New Day (previously unreleased) (2:20)
CD 5:
Bonus Disc:
This Whole World (alternate ending – previously unreleased) (1:41)
Add Some Music To Your Day (previously unreleased alternate version) (3:27)
Don't Go Near The Water (alternate version – previously unreleased) (2:42)
Surf's Up Part 1 (1971 remake track with 1966 Brian vocal – previously unreleased) (1:41)
Soulful Old Man Sunshine (previously unreleased 2019 mix) (3:14)
I'm Goin' Your Way (previously unreleased alternate mix) (2:24)
Where Is She (previously unreleased 2019 mix) (2:22)
Carnival (Over The Waves/Sobra Las Olas) (previously unreleased 2019 mix) (1:34)
It's Natural (previously unreleased) (2:35)
Medley: All Of My Love / Ecology (previously unreleased) (5:05)
Before (previously unreleased) (2:25)
Behold The Night (previously unreleased) (2:26)
Old Movie (Cuddle Up) (previously unreleased) (3:37)
Hawaiian Dream (previously unreleased) (4:33)
Settle Down / Sound Of Free (basic session outtake – previously unreleased) (2:17)
I've Got A Friend (previously unreleased) (2:26)
Til I Die (piano demo – previously unreleased) (1:55)
Back Home (previously unreleased demo) (2:20)
Back Home (alternate version – previously unreleased) (2:34)
Won't You Tell Me (demo – previously unreleased) (2:01)
Won't You Tell Me (previously unreleased 2019 mix) (2:54)
Barbara (previously unreleased 2020 mix) (2:59)
Slip On Through (early version track) (2:48)
Susie Cincinnati (basic session highlights – previously unreleased) (3:05)
My Solution (track & backing vocals – previously unreleased) (3:04)
You Never Give Me Your Money (previously unreleased) (0:40)
Medley: Happy Birthday, Brian / God Only Knows (previously unreleased) (2:47)
You Need A Mess Of Help To Stand Alone (track & backing vocals – previously unreleased) (3:32)
Marcella (a cappella – previously unreleased) (3:27)