af Karsten Jørgensen
"Here's To The Nights" er titlen på en ny sang med 80-årige Ringo Starr, hvor han traditionen tro får masser af hjælp fra både gamle og nye venner. I koret finder vi bl.a. Dave Grohl, Lenny Kravitz, Sheryl Crow, Ringos svoger Joe Walsh og andre, deriblandt en barndomskammerat fra Liverpool, som selv har haft en rimelig succesfuld solokarriere – Paul McCartney. Blandt backingmusikerne er der så prominente folk som Nathan East på bas, Steve Lukather og Bruce Sugar på guitar og Benmont Tench ved klaveret.
"Here's To The Nights", som er skrevet af Diane Warren, blev udsendt 15. december, tre dage før McCartney udsendte sit nye album "McCartney III", og Ringo Starr var meget opsat på, at få sangen ud før nytår, "for den føles som en rigtig god sang at afslutte et hårdt år med", siger han. "Det er en sang om nætter, vi ikke husker, og om venner, vi ikke glemmer – og samtidig ønsker jeg alle fred og kærlighed i 2021".
"Here's To The Nights" er forløberen for en ny EP med den flittige eks-beatle, med titlen "Zoom In", som udsendes via Universal Music den 19. marts 2021. EP'en er indspillet i perioden fra april til oktober i Ringos hjemmestudie, og indeholder i alt fem sange, produceret af Ringo og Bruce Sugar.
"Zoom In, Zoom Out" er skrevet af Jeff Zobar, og foruden Ringo på vokal og trommer er der medvirken af Doors-guitaristen Robbie Krieger. "Teach Me To Tango", en komposition af Sam Hollander, har bl.a. Nathan East på bas. "Waiting For The Tide To Turn" har Ringo som medkomponist, mens "Not Enough Love In The World" er skrevet af Joseph Williams og Steve Lukather, sidstnævnte med en fortid i Toto og i Ringos All-Starr Band.
I løbet af sin karriere har Ringo Starr modtaget ni Grammyer, udsendt 20 studie-albums, medvirket i mere end 15 film, udgivet syv bøger, turneret i 30 år med sit All-Starr Band, og, ikke at forglemme, blevet adlet (i 2018) af det engelske kongehus.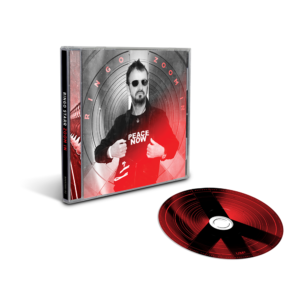 Trackliste for "Zoom In":
1. Here's To The Nights
2. Zoom In Zoom Out
3. Teach Me To Tango
4. Waiting For The Tide To Turn
5. Not Enough Love In The World