af Karsten Jørgensen
I 2013 udsendte vores hjemlige Tim Christensen et album med titlen "Pure McCartney", hvor han fortolkede en stribe sange af sit idol, Paul McCartney.
Nu har McCartney-kontoret så meddelt, at mesteren selv også udsender en retrospektiv samling med samme titel den 10. juni. "Pure McCartney" bliver udsendt i tre forskellige formater, som 2 cd, 4 cd og 4 LP, og indeholder hhv. 49, 67 og 46 sange.
40 af sangene har været Top 40-favoritter – det gælder for indlysende hits som "Live And Let Die", "Maybe I'm Amazed" og "Mull Of Kintyre" – mens andre er mere obskure, f.eks. "Dear Boy", "English Tea", "Wanderlust" og "Junk".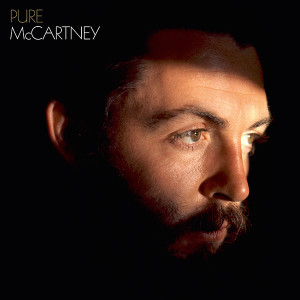 Cover til 'Pure McCartney'
"Jeg og mine folk fik denne idé, at lave en samling af mine sange uden anden rød tråd end, at det skulle være sjovt at lytte til", fortæller McCartney i en pressemeddelelse.
Tidligere opsamlingsplader med Paul McCartney var "Wings Greatest", 1978, "All The Best", 1987, og "Wingspan" i 2001. Den nye "Pure McCartney" rækker over hele McCartneys solokarriere, fra debutalbummet "McCartney" i 1970 over perioden med Wings og The Fireman og helt frem til sangen "Hope For The Future", skrevet til computerspillet "Destiny" i 2014 og sidste års remixede version af "Say Say Say".
Trackliste for 2 cd:
CD 1
1. Maybe I'm Amazed
2. Heart Of The Country
3. Jet
4. Warm And Beautiful
5. Listen To What The Man Said
6. Dear Boy
7. Silly Love Songs
8. The Song We Were Singing
9. Uncle Albert/Admiral Halsey
10. Another Day
11. Sing The Changes
12. Jenny Wren
13. Save Us
14. Mrs Vandebilt
15. Mull of Kintyre
16. Let 'Em In
17. Let Me Roll It
18. Nineteen Hundred and Eighty Five
19. Ebony and Ivory
CD 2
1. Band on the Run
2. Arrow Through Me
3. My Love
4. Live and Let Die
5. Too Much Rain
6. Goodnight Tonight
7. Say Say Say [2015 Remix]
8. My Valentine
9. The World Tonight
10. Pipes of Peace
11. Dance Tonight
12. Here Today
13. Wanderlust
14. Great Day
15. Coming Up
16. No More Lonely Nights
17. Only Mama Knows
18. With a Little Luck
19. Hope For The Future
20. Junk
Trackliste for 4 cd:
CD 1
1. Maybe I'm Amazed
2. Heart Of The Country
3. Jet
4. Warm And Beautiful
5. Listen To What The Man Said
6. Dear Boy
7. Silly Love Songs
8. The Song We Were Singing
9. Uncle Albert/Admiral Halsey
10. Early Days
11. Big Barn Bed
12. Another Day
13. Flaming Pie
14. Jenny Wren
15. Too Many People
16. Let Me Roll It
17. New
CD 2
1. Live and Let Die
2. English Tea
3. Mull of Kintyre
4. Save Us
5. My Love
6. Bip Bop
7. Let 'Em In
8. Nineteen Hundred and Eighty Five
9. Calico Skies
10. Hi, Hi, Hi
11. Waterfalls
12. Band on the Run
13. Appreciate
14. Sing The Changes
15. Arrow Through Me
16. Every Night
17. Junior's Farm
18. Mrs Vandebilt
CD 3
1. Say Say Say [2015 Remix]
2. My Valentine
3. Pipes of Peace
4. The World Tonight
5. Souvenir
6. Dance Tonight
7. Ebony and Ivory
8. Fine Line
9. Here Today
10. Press
11. Wanderlust
12. Winedark Open Sea
13. Beautiful Night
14. Girlfriend
15. Queenie Eye
16. We All Stand Together
CD 4
1. Coming Up
2. Too Much Rain
3. Good Times Coming/Feel the Sun
4. Goodnight Tonight
5. Baby's Request
6. With a Little Luck
7. Little Willow
8. Only Mama Knows
9. Don't Let it Bring You Down
10. The Back Seat Of My Car
11. No More Lonely Nights
12. Great Day
13. Venus and Mars/Rock Show
14. Temporary Secretary
15. Hope For The Future
16. Junk
Trackliste for 4 LP:
Side 1
1. Maybe I'm Amazed
2. Heart Of The Country
3. Jet
4. Warm And Beautiful
5. Listen To What The Man Said
6. Dear Boy
Side 2
1. Silly Love Songs
2. The Song We Were Singing
3. Uncle Albert/Admiral Halsey
4. Another Day
5. New
Side 3
1. Mull of Kintyre
2. Sing The Changes
3. Jenny Wren
4. Mrs Vandebilt
5. Save Us
Side 4
1. Let 'Em In
2. Let Me Roll It
3. Ebony and Ivory
4. Nineteen Hundred and Eighty Five
Side 5
1. Band on the Run
2. Arrow Through Me
3. My Love
4. Live and Let Die
5. Too Much Rain
Side 6
1. Say Say Say [2015 Remix]
2. My Valentine
3. Goodnight Tonight
4. The World Tonight
5. Pipes of Peace
Side 7
1. Dance Tonight
2. Here Today
3. Wanderlust
4. Great Day
5. Coming Up
6. No More Lonely Night
Side 8
1. Too Many People
2. Only Mama Knows
3. With a Little Luck
4. Hope For The Future
5. Junk