af Karsten Jørgensen
George Theiss, som var lead-sanger i Bruce Springsteens første band, The Castiles, er død af lungecancer, 68 år gammel.
Theiss voksede, ligesom Bruce, op i Freehold i New Jersey, og var en kendt skikkelse i en række lokale bands som Rusty Chain, Doo-Dah, The Cahoots og The George Theiss Band.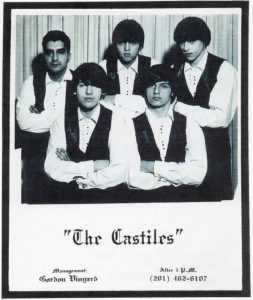 The Castiles, 1966 – George Theiss i midten, Springsteen nr. 2 fra venstre
Men mest kendt var han naturligvis for tiden som leder af The Castiles i midten af 1960'erne, hvor en meget ung Bruce Springsteen trådte sine musikalske barnesko som guitarist.
George var kæreste med Virginia Springsteen, Bruces søster, og det førte til, at Bruce i 1965 fik tilbuddet om at blive leadguitarist i The Castiles.
The Castiles indspillede to sange i et pladestudie i Freehold i maj 1966, "That's What You Get" og "Baby I", begge skrevet i fællesskab af Theiss og springsteen, men først 50 år senere blev det ene nummer, "Baby I", udsendt officielt på Springsteen-albummet "Chapter And Verse" i 2016.
Bruce spillede sammen med Theiss i The Castiles fra 1965 til 1968, hvor gruppen opløstes efter de alle blev arresteret for besiddelse af marijuana.
Men allerede før bruddet, havde der været gnidninger mellem Bruce og George Theiss, som følte, at Bruce truede hans position som leder af gruppen.
Alligevel forblev George Theiss og Bruce Springsteen venner, og i 1969 var Bruce med til Theiss' bryllup.
Ved en slags skæbnens ironi giftede Bruce Springsteen sig senere med Patti Scialfa, hvis bror Michael havde spillet sammen med Theiss i en senere gruppe, The Cahoots.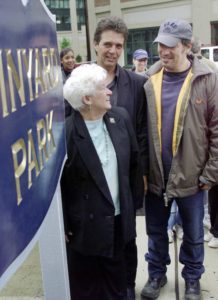 George Theiss med Springsteen (t.h.) og Marion Vinyard i Freehold, 2002
George Theiss, som var flyttet fra Freehold til Salisbury i North Carolina, døde den 13. juli, og efterlader sig hustruen Diana, som han havde været gift med siden 1969.