af Karsten Jørgensen
På opfordring af George Harrison fra The Beatles, underskriver Decca Records den 10. maj 1963 en pladekontrakt med de ukendte The Rolling Stones. Det er samme Decca Records, som halvandet år tidligere afviste netop The Beatles. The Rolling Stones udsender senere samme år deres debutplade, singlen "Come On", som er en cover-version af en Chuck Berry-sang.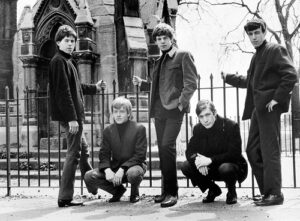 The Rolling Stones, 1963
I øvrigt på den 10. maj:
10. maj 1935
Sangeren og komponisten Larry Williams født i New Orleans, Louisiana. Han skrev bl.a. "Dizzy Miss Lizzie" og "Slow Down", som senere blev indspillet af The Beatles. Williams døde i 1980.
10. maj 1940
Sangeren og komponisten Arthur Alexander født i Sheffield, Alabama. Blandt hans kompositioner var "Anna", indspillet af The Beatles, "You Better Move On", indspillet af The Rolling Stones, og "Sally Sue Brown", som Bob Dylan indspillede i 1980'erne. Alexander døde i 1993.
10. maj 1944
Sanger og musiker Jackie Lomax født i Liverpool, England. Han spillede i gruppen The Undertakers, inden en solokarriere sidst i 1960'erne, hvor han var en af de første kunstnere, som udsendte musik på The Beatles' pladeselskab, Apple Records. Lomax døde i 2013.
10. maj 1946
Denne dag fødtes flere prominente britiske musikere.
Dels guitaristen Dave Mason, medlem af gruppen Traffic og senere solist, født i Worcester, samt musikeren Graham Gouldman, medlem af The Mindbenders og senere 10 c.c., født i Manchester. Endvidere blev den skotske folkesanger Donovan også født denne dag i Glasgow.
10. maj 1957
Det berygtede medlem af punkgruppen The Sex Pistols, Sid Vicious, blev født i London. Døde i 1979.
10. maj 1960
Bono, sanger i gruppen U2, født i Dublin.