af Karsten Jørgensen
Internetsiden Ultimate Classic Rock skriver, at John Lennons kontrafej nu bliver foreviget på et amerikansk frimærke.
Den 7. september udsender det amerikanske postvæsen frimærket, som er prydet med et portræt af John Lennon fra august 1974, taget af fotografen Bob Gruen og brugt på omslaget til ex-beatlens femte soloalbum, "Walls And Bridges".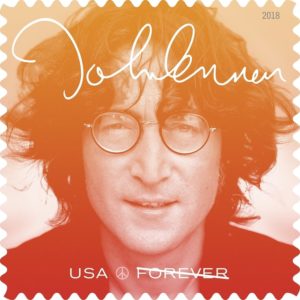 Postvæsenet begrunder i en pressemeddelelse valget af eks-beatlen: "Lennon er elsket over hele verden, og havde stor succes både som medlem af The Beatles og som solist. Lennons musik er stadig en fortaler for sandhed, fred og tolerance".
Frimærket med John Lennon er det foreløbig seneste i serien 'Forever', der tidligere har udgivet frimærker med portrætter af Elvis Presley, Janis Joplin, Ray Charles, Jimi Hendrix og Johnny Cash.
Kl. 11 på udgivelsesdatoen 7. september bliver der afholdt en ceremoni i New Yorks Central Park, ikke langt fra mindeparken Strawberry Fields og heller ikke langt fra den lejlighed i bygningskomplekset The Dakota, hvor Lennon boede de seneste år af sit liv, indtil han i december 1980 blev skudt og dræbt af en sindsforvirret fan. Ceremonien er åben for offentligheden.