af Karsten Jørgensen
Paul McCartney har, ifølge online-magasinet Deadline, skrevet "syv-otte sange" til en tegnefilm, som forsigtigt antydes at ville få premiere før jul. "High In The Clouds" er titlen, og den er baseret på børnebogen med samme navn fra 2005, som McCartney skrev sammen med Philip Ardagh og blev illustreret af Geoff Dunbar.
Temaet i historien er helt i tråd med McCartneys filosofi om dyrevelfærd, og handler om et lille egerns rejse for at finde et fredet område, som kaldes Animalia, og budskabet i "High In The Clouds" er, at vi skal bevare naturen og sikre, at dyrene får lov at leve i deres egne vante omgivelser.
McCartney ved udgivelsen af "High In The Clouds" i 2005
De første spadestik til filmen blev taget i 2009 af Unique Features, som bakkede ud af projektet, der herefter lå i dvale indtil september 2013, hvor selskabet RGH Entertainment overtog og annoncerede, at filmen ville blive lavet i 3D og produceret af Tony Bancroft, som var en af folkene bag Disneys "Mulan". Økonomiske problemer satte imidlertid igen en kæp i hjulet, men nu forlyder det, at RGH Entertainment atter er på banen og har udskiftet Tony Bancroft med Cody Cameron, som har haft en hånd med i flere af "Shrek"-filmene.
Det er endnu usikkert, om McCartney komponerer et egentligt soundtrack eller blot en stribe sange til filmen, men det skulle ligge fast, at én af sangene er et samarbejde mellem McCartney, Lady Gaga og Pearl Jam-guitaristen Mike McCready.
Det er langtfra første gang Paul McCartney skriver filmmusik – tænk bare på den legendariske James Bond-sang "Live And Let Die", som han indspillede med Wings i 1973 og som næsten nåede til tops på hitlisten i USA. Siden har den været en fast del af McCartneys koncertrepertoire og blev i 2009 valgt som den bedste Bond-sang nogensinde af musik-kæden HMV.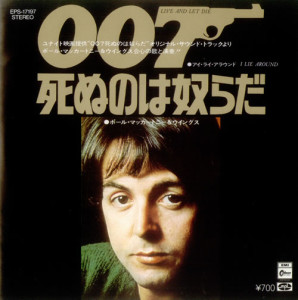 Endnu tidligere, i 1966, skrev McCartney underlægningsmusik til filmen "The Family Way", bl.a. det smukke tema "Love In The Open Air". Senere komponerede han flere sange til sin egen film "Give My Regards To Broad Street" (1984) og "Daumier's Law" (1992), sidstnævnte en animeret kortfilm af tidligere omtalte Geoff Dunbar, der også stod for det visuelle i den klassiske "Rupert And The Frog Song" med McCartneys hitsang "We All Stand Together".
Drypvis har McCartney leveret sange til film som "Rock And Roll High School" ("Did We Meet Somewhere Before?"), 1979, "Spies Like Us" (titelsangen), 1985, og "Everybody's Fine" ("(I Want To) Come Home"), 2009.
Faktisk var en del Beatles-sange også teknisk set filmmusik, da mange af dem blev skrevet på opfordring til specifikke scener i "A Hard Day's Night", "Help!", "Magical Mystery Tour" og "Yellow Submarine", og – må man sige – med stor succés.