af Karsten Jørgensen
Skuespilleren Margaret Nolan, som medvirkede i The Beatles' "A Hard Day's Night" og James Bond-filmen "Goldfinger", begge i 1964, er død, 76 år gammel.
Margaret Nolan blev født i Norton Radstock i Somerset, England, den 29. oktober 1943, og begyndte sin karriere som fotomodel i begyndelsen af 1960'erne under navnet Vicky Kennedy.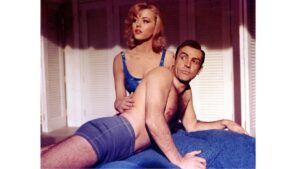 Margaret Nolan som Dink i 'Goldfinger', med Sean Connery
Da hun senere, i 1962, indledte sin karriere som skuespiller, skiftede hun tilbage til sit fødenavn, og blev kendt to år senere som massøsen Dink i "Goldfinger". Men hendes egentlige berømmelsen, og det hun primært huskes for, stammede fra filmens titelsekvens, hvor hun blev vist helt malet i guld og iført en guld-bikini. Denne rolle i selve filmen blev imidlertid spillet af Shirley Eaton, som således blev "Goldfingers" egentlige 'Bond-babe'. Rollen i "A Hard Day's Night", som en kvinde i et casino, var ukrediteret.
Margaret Nolan fortsatte som skuespiller indtil midten af 1980'erne, hvor hun satte sin karriere på stand-by indtil 2011, hvor hun vendte tilbage som Dame Margaret i "The Power of Three", men mest kendt er hun for sin rolle i "Goldfinger" og for sin medvirken i seks film i "Carry On…"-serien mellem 1965 og 1974.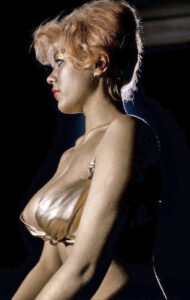 Margaret Nolan malet i guld fra 'Goldfingers' berømte titelsekvens
Nolan var gift med skuespilleren Tom Kempinski fra 1967 til 1972, og var senere gift med Michael O'Sullivan. Hun efterlader sig to sønner, Oscar Deeks og Luke O'Sullivan, to børnebørn og en søster, Geraldine Ross.
Margaret Nolan døde i London af kræft den 5. oktober 2020.