af Karsten Jørgensen
Om godt et år, helt præcis den 28. april 2023, drager Bruce Springsteen og hans E Street Band igen på turné, har 'Bossen' netop meddelt.
Det er seks år siden, at Springsteen og hans band sidst var på turné.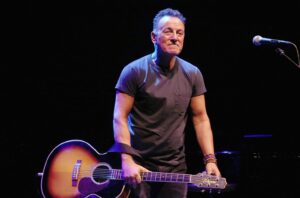 Turneen, som begynder i Barcelona i Spanien den 28. april, vil krydse gennem Europa til bl.a. Frankrig, Sverige, Norge, Holland, Tyskland og Danmark, hvor Springsteen spiller to koncerter i Parken i København den 11. og 13. juli. Den europæiske turné slutter 25. juli i Italien.
Rygter vil endvidere vide, at Bruce og The E Street Band allerede i februar vil tyvstarte med en amerikansk turné, som vil fortsætte i august, når den europæiske del er slut. Men disse påståede koncerter er endnu ikke blevet offentliggjort, ligesom forventede koncerter i England heller ikke er det.
Sidste gang Springsteen spillede med The E Street Band, var i Auckland i New Zealand den 25. februar 2017, hvor de afsluttede den verdensomspændende "The River Tour", som begyndte i 2016. Siden har 'Bossen' spillet mere end 250 koncerter med sit succesfulde og meget roste solo-show "Springsteen on Broadway", og sammen med The E Street Band udsendte han i 2020 albummet "Letter To You".
The E Street Band består af Roy Bittan, klaver/synthesizer, Nils Lofgren, guitar, Patti Scialfa, guitar, Garry Tallent, bas, Stevie Van Zandt, guitar, Max Weinberg, trommer, Soozie Tyrell, violin/guitar, Jake Clemons, saxofon, og Charlie Giordano, keyboard.
Billetsalget til Springsteens koncerter i Parken begynder den 1. juni, og billetpriserne varierer fra 550 til 1245 kr.