af Karsten Jørgensen
Albummet "Flowers In The Dirt" fra 1989, der sædvanligvis betragtes som en slags comeback for Paul McCartney efter nogle mindre oplagte udgivelser i midt-1980'erne, bliver genudgivet den 24. marts 2017 som en del af McCartneys såkaldte "arkiv"-serie.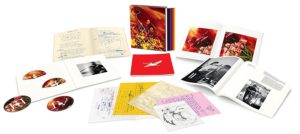 Deluxe-udgaven af "Flowers In The Dirt"
"Flowers In The Dirt" er bl.a. kendt for et frugtbart samarbejde med Elvis Costello, som var medkomponist til fire af albummets sange, både singlen "My Brave Face" samt "You Want Her Too", "Don't Be Careless Love" og "That Day Is Done". Samtidig var albummet også startskuddet for, at Paul McCartney begyndte at turnere regelmæssigt igen, for første gang siden den sidste turne med Wings i 1979.
Arkivudgivelsen, som er den første efter McCartney i august skiftede pladeselskab fra Hear Music til Capitol, udkommer i flere forskellige formater – både som dobbelt-album på vinyl, som dobbelt-cd og endelig i en deluxe-udgave med 3 cd'er, plus en dvd samt fire bøger/hæfter. Dertil kommer 16 sange, og det har allerede været genstand for en del kritik fra hardcore-fans, der kun udkommer som digitale downloads, bl.a. B-sider fra singler og cassette-demoer.
På internetsiden Super Deluxe Edition modtog de indenfor 24 timer efter annonceringen af genudgivelsen mere end 160 mails fra vrede fans, der med en vis logik hævder, at folk som investerer i dyre deluxe-udgaver gør det, for at have alt materialet i fysisk form – ikke som digital download. En af dem, Ollie, skriver: "Jeg kan ikke se en mening med at købe et deluxe CD-bokssæt, hvor en væsentlig del af indholdet slet ikke er inkluderet på de fysiske cd'er".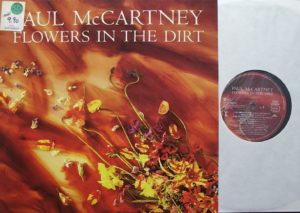 Den oprindelige LP fra 1989
Trackliste:
SPECIAL EDITION (3CD/1DVD)
CD 1:
1. My Brave Face (2017 Remaster)
2. Rough Ride (2017 Remaster)
3. You Want Her Too (2017 Remaster)
4. Distractions (2017 Remaster)
5. We Got Married (2017 Remaster)
6. Put It There (2017 Remaster)
7. Figure Of Eight (2017 Remaster)
8. This One (2017 Remaster)
9. Don't Be Careless Love (2017 Remaster)
10. That Day Is Done (2017 Remaster)
11. How Many People (2017 Remaster)
12. Motor Of Love (2017 Remaster)
13. Où Est Le Soleil? (2017 Remaster)
CD 2:
1. The Lovers That Never Were (Original Demo)
2. Tommy's Coming Home (Original Demo)
3. Twenty Fine Fingers (Original Demo)
4. So Like Candy (Original Demo)
5. You Want Her Too (Original Demo)
6. That Day Is Done (Original Demo)
7. Don't Be Careless Love (Original Demo)
8. My Brave Face (Original Demo)
9. Playboy To A Man (Original Demo)
CD 3:
1. The Lovers That Never Were (1988 Demo)
2. Tommy's Coming Home (1988 Demo)
3. Twenty Fine Fingers (1988 Demo)
4. So Like Candy (1988 Demo)
5. You Want Her Too (1988 Demo)
6. That Day Is Done (1988 Demo)
7. Don't Be Careless Love (1988 Demo)
8. My Brave Face (1988 Demo)
9. Playboy To A Man (1988 Demo)
DVD:
Musik Videoer:
1. My Brave Face
2. My Brave Face (Version 2)
3. This One (Version 1)
4. This One (Version 2)
5. Figure Of Eight
6. Party Party
7. Où Est Le Soleil?
8. Put It There
9. Distractions
10. We Got Married
Creating Flowers in the Dirt:
1. Paul And Elvis
2. Buds In The Studio
3. The Making Of 'This One'
(The Dean Chamberlain One)
Put it There:
1. Put It There Documentary
KUN DOWNLOAD:
Originale B-sider, remix og single edit:
1. Back On My Feet
2. Flying To My Home
3. The First Stone
4. Good Sign
5. This One (Club Lovejoys Mix)
6. Figure Of Eight (12" Bob Clearmountain Mix)
7. Loveliest Thing
8. Où Est Le Soleil? (12" Mix)
9. Où Est Le Soleil? (Tub Dub Mix)
10. Où Est Le Soleil? (7" Mix)
11. Où Est Le Soleil? (Instrumental)
12. Party Party (Original Mix)
13. Party Party (Club Mix)
Cassette demoer:
1. I Don't Want To Confess
2. Shallow Grave
3. Mistress And Maid
SPECIAL EDITION (2CD)
CD 1:
1. My Brave Face (2017 Remaster)
2. Rough Ride (2017 Remaster)
3. You Want Her Too (2017 Remaster)
4. Distractions (2017 Remaster)
5. We Got Married (2017 Remaster)
6. Put It There (2017 Remaster)
7. Figure Of Eight (2017 Remaster)
8. This One (2017 Remaster)
9. Don't Be Careless Love (2017 Remaster)
10. That Day Is Done (2017 Remaster)
11. How Many People (2017 Remaster)
12. Motor Of Love (2017 Remaster)
13. Où Est Le Soleil? (2017 Remaster)
CD 2:
1. The Lovers That Never Were (Original Demo)
2. Tommy's Coming Home (Original Demo)
3. Twenty Fine Fingers (Original Demo)
4. So Like Candy (Original Demo)
5. You Want Her Too (Original Demo)
6. That Day Is Done (Original Demo)
7. Don't Be Careless Love (Original Demo)
8. My Brave Face (Original Demo)
9. Playboy To A Man (Original Demo)
VINYL (2 LP)
LP 1:
1. My Brave Face (2017 Remaster)
2. Rough Ride (2017 Remaster)
3. You Want Her Too (2017 Remaster)
4. Distractions (2017 Remaster)
5. We Got Married (2017 Remaster)
6. Put It There (2017 Remaster)
7. Figure Of Eight (2017 Remaster)
8. This One (2017 Remaster)
9. Don't Be Careless Love (2017 Remaster)
10. That Day Is Done (2017 Remaster)
11. How Many People (2017 Remaster)
12. Motor Of Love (2017 Remaster)
13. Où Est Le Soleil? (2017 Remaster)
LP 2:
1. The Lovers That Never Were (Original Demo)
2. Tommy's Coming Home (Original Demo)
3. Twenty Fine Fingers (Original Demo)
4. So Like Candy (Original Demo)
5. You Want Her Too (Original Demo)
6. That Day Is Done (Original Demo)
7. Don't Be Careless Love (Original Demo)
8. My Brave Face (Original Demo)
9. Playboy To A Man (Original Demo)