af Karsten Jørgensen
Da Ringo Starr i 1981 indspillede albummet "Stop And Smell The Roses", donerede Paul McCartney en ny komposition til sin gamle Beatles-kollega.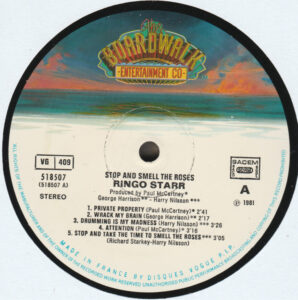 Label fra 'Stop And Smell The Roses'
"Attention" var titlen på sangen, og nu bliver McCartneys originale demo-indspilning udbudt til salg på auktion hos Omega Auctions, som forventer, at kassettebåndet med indspilningen vil indbringe den nuværende ejer en net sum på omkring 10.000 £.
Kassettebånd med McCartneys demo til 'Attention'
Sælgeren af kassettebåndet er saxofonisten Howie Casey, som fik demoen af McCartney inden han gik i studiet og indspillede sangen med Ringo Starr.
Howie Casey, t.v., med Paul McCartney
Demo-båndet bliver solgt på auktionen den 26. april, og i Omega Auctions beskrivelse af demoen pointeres det, at en evt. køber kun får båndet, men uden ophavsrettighederne til hverken indspilningen eller kompositionen.