af Karsten Jørgensen
En ny film om mordet på John Lennon, "The Lennon Report", får premiere i amerikanske biografer den 7. oktober 2016.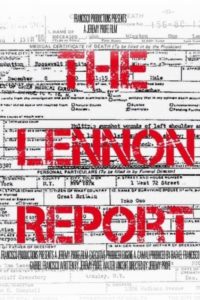 Filmen, som blev vist ved Newport Beach Film Festival i april, er instrueret af Jeremy Profe efter et manus, han selv skrev sammen med Walter Vincent, og har Richard Kind, Evan Jonigkeit og Walter Vincent i de førende roller.
Modsat to tidligere film, "The Killing Of John Lennon", 2007, og "Chapter 27", 2008, som overvejende handlede om de sidste dage før mordet på Lennon i december 1980, genskaber "The Lennon Report" de hektiske minutter efter attentatet, hvor læger og sygeplejersker på New Yorks Roosevelt Hospital forgæves prøvede at redde eks-beatlens liv.