af Karsten Jørgensen
Som reklame for sit kommende nye album, "Egypt Station", der udkommer den 7. september, spillede Paul McCartney i går eftermiddags en 'surprise'-koncert for 350 mennesker i den legendariske Cavern Club i Liverpool.
Billetterne til koncerten, som startede kl. 14 og varede i godt to timer, blev givet væk gratis efter princippet først til mølle, og som forventet tog det ikke mange sekunder.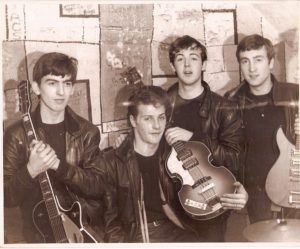 The Beatles, med Pete Best, i The Cavern, 1961
Som medlem af The Beatles spillede McCartney i alt 292 gange i The Cavern Club mellem 1958 og 1963. Den oprindelige Cavern blev revet ned i 1973, men genåbnede elleve år senere i en nærliggende bygning på den anden side af Matthew Street, da byen opdagede, at Beatles-fænomenet var godt i gang med at blive en storindustri. I dag vurderes det, at hvert 10. job i Liverpool, på den ene eller anden måde har noget at gøre med The Beatles.
Siden 1963 har Paul McCartney kun spillet én gang i The Cavern, i december 1999, med et band, der bl.a. bestod af Pink Floyds David Gilmour.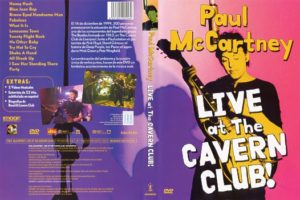 McCartneys optræden i The Cavern i 1999 blev udsendt på dvd
Ved gårsdagens koncert spillede McCartney 28 sange, heribandt fire fra det nye album, samt udvalgte numre fra både tiden i The Beatles, i Wings og som solist. Én af sangene, "In Spite Of All The Danger", skrev han med George Harrison i 1958, dengang de senere beatler stadig kaldte sig The Quarrymen og endnu ikke havde fået Ringo Starr ind i folden.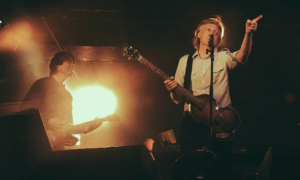 Paul McCartney på scenen i The Cavern igår
Sætlisten i Cavern Club, 26. juli 2018:
Jam
Twenty Flight Rock
Magical Mystery Tour
Jet
All My Loving
Letting Go
Come On To Me
Let Me Roll It
I Got A Feeling
My Valentine
Queenie Eye
1985
Lady Madonna
In Spite Of All The Danger
Things We Said Today
Confidante
Love Me Do
Who Cares
Birthday
I Wanna Be Your Man
Fuh You
Get Back
Ob-La-Di, Ob-La-Da
Band On The Run
Hi Hi Hi
I Saw Her Standing There
Sgt Pepper's Lonely Hearts Club Band
Helter Skelter