af Karsten Jørgensen
"The Boy Named If" hedder det nye album, som Elvis Costello og hans trofaste backinggruppe The Imposters udsender den 14. januar 2022.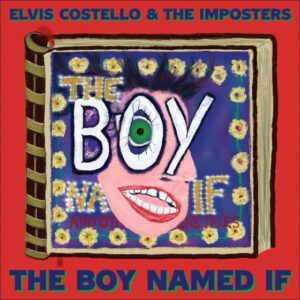 Den fulde titel på albummet er "The Boy Named If (And Other Children's Stories)", og Costello forklarer, at "If" betyder "imaginary friend" – éns hemmelige jeg, som man kan skyde skylden på, for alle de ting, man går rundt og gør – men nægter overfor sig selv.
Pladens 13 sange "fører os gennem barndommens sidste forvirrede tid til det frygtindgydende tidspunkt, hvor nogen fortæller os, at vi skal holde op med at opføre os som børn", siger Costello, og tilføjer: "Hvilket for de fleste mænds vedkommende (og måske også kvinders) kan være på et hvilket som helst tidspunkt indenfor de første 50 år".
Albummet er indspillet med The Imposters – Pete Thomas på trommer, Davey Faragher på bas og Steve Nieve på orgel og klaver – og Costello har co-produceret sammen med Sebastian Krys.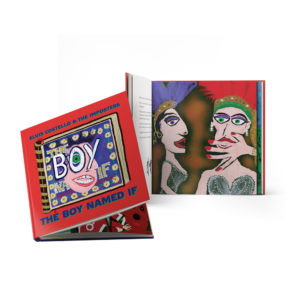 "The Boy Named If", som udkommer på både cd, dobbelt-vinyl, kassette og som download, er en follow-up til "Hey Clockface" fra 2020. Imellemtiden er der, i september, også udsendt et album, "Spanish Model", hvor latinamerikanske sangere fortolker hele Costellos 1978-album "This Year's Model" med spanske tekster.
"The Boy Named If" er Elvis Costellos mest rockede album siden "Momofuku" i 2008, og derfor også det første album i lang tid, som udnytter potentialet hos hans dynamiske backing-trio fuldt ud.
I oktober udsendte Costello den første single fra det nye album, "Magnificent Hurt", og for nogle dage siden kom endnu en, "Paint The Red Rose Blue".

Costello har planlagt en turné til juni 2022
Trackliste for "The Boy Named If":
1. Farewell, OK
2. The Boy Named If
3. Penelope Halfpenny
4. The Difference
5. What If I Can't Give You Anything But Love?
6. Paint the Red Rose Blue
7. Mistook Me for a Friend
8. My Most Beautiful Mistake (guest vocal by Nicole Atkins)
9. Magnificent Hurt
10. The Man You Love to Hate
11. The Death of Magic Thinking
12. Trick Out the Truth
13. Mr. Crescent