af Karsten Jørgensen
Livealbummet "Odeon Budokan" med Neil Young og Crazy Horse, optaget i marts 1976 i henholdsvis Hammersmith Odeon i London og Nippon Budokan Hall i Tokyo, blev oprindelig udsendt på cd, som en del af bokssættet "Neil Young Archives Vol. II" i 2020.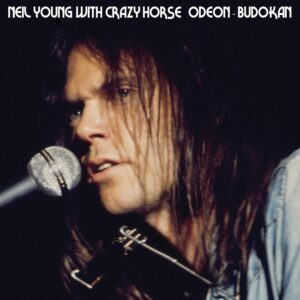 Nu får albummet en selvstændig udgivelse på LP, når de ti sange, med bl.a. klassikere som "Cowgirl in the Sand" og "Cortez the Killer", udsendes på 140 grams sort vinyl, via Reprise Records den 1. september.
Side 1 fra Hammersmith Odeon er Neil Young solo med akustisk guitar, mens Side 2 fra Budokan Hall i Tokyo, er elektrisk sammen med Crazy Horse. Det hele er produceret af David Briggs.
Trackliste for "Odeon Budokan":
Side 1:
The Old Laughing Lady
After The Gold Rush
Too Far Gone
Old Man
Stringman
Side 2:
Don't Cry No Tears
Cowgirl In The Sand
Lotta Love
Drive Back
Cortez The Killer