af Karsten Jørgensen
Efter et særdeles succesfuldt engagement med one-man-showet "Springsteen On Broadway", som sluttede i december efter mere end 236 optrædender for fulde huse, vender Bruce Springsteen nu tilbage til sin karriere som pladekunstner efter fem års pause.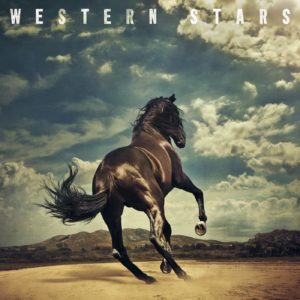 "Western Stars" er titlen på det nye album, som udkommer den 14. juni på Columbia Records, og som på trods af at være annonceret som et soloalbum, alligevel indeholder flere bidrag fra medlemmer af The E Street Band.
"Denne plade er en tilbagevenden til min solokarriere, med sange domineret af personligheder og filmiske arrangementer", siger Bruce Springsteen, som har hentet inspiration fra den mere bløde popmusik, som californiske kunstnere lavede i slut-1960'erne og de tidlige 1970'ere – mere præcis folk som Glen Campbell, Burt Bacharach og Jimmy Webb, som Bruce selv fremhævede i et interview med magasinet Variety i december.
Alle 13 sange på "Western Stars" er skrevet af Bruce Springsteen, som også har produceret i samarbejde med Ron Aniello, der producerede Springsteens to forrige studieplader, "Wrecking Ball" i 2012 og "High Hopes" i 2014. Albummet er overvejende indspillet i Bruces eget studie i New Jersey, samt i Californien og New York.
Mere end 20 forskellige musikere medvirker på "Western Stars", bl.a. Jon Brion, Charlie Giordano og Soozie Tyrell. Men også keyboardspilleren David Sancious fra The E Street Band gæsteoptræder på pladen, og det samme gør Springsteens hustru, Patti Scialfa.
Foreløbig har Springsteen udsendt to sange fra albummet, som kan høres på You Tube, "Hello Sunshine" og "There Goes My Miracle".
Trackliste:
1. Hitch Hikin'
2. The Wayfarer
3. Tucson Train
4. Western Stars
5. Sleepy Joe's Café
6. Drive Fast (The Stuntman)
7. Chasin' Wild Horses
8. Sundown
9. Somewhere North of Nashville
10. Stones
11. There Goes My Miracle
12. Hello Sunshine
13. Moonlight Motel