af Karsten Jørgensen
En af alle tiders største popkomponister, Burt Bacharach, er død, 94 år.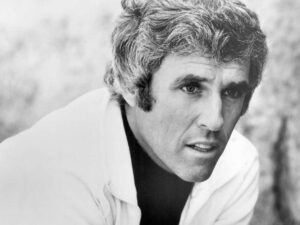 Fra en ydmyg begyndelse som akkompagnatør for filmdivaen Marlene Dietrich, arbejdede han sig op gennem pophierakiet, og sammen med tekstforfatteren Hal David komponerede han mange af 1960'ernes mest iørefaldende og slidstærke sange. Og listen af evergreens er næsten uendelig.
"Walk On By", "Do You Know The Way To San Jose?", "Anyone Who Had A Heart", "Make It Easy On Yourself" og "Alfie" er blot et minimalt udvalg af de sange, som i fortolkninger med Dionne Warwick, Cilla Black, Dusty Springfield og The Walker Brothers lå højt på hitlisterne.
Burt Bacharach havde en helt unik flair for at skrive melodier, der lød så enkle og ligetil, at de ofte med et nedladende udtryk blev klassificeret som "easy listening", men under overfladen havde hans sange som regel en struktur og opbygning, som var meget mere kompleks end det lød.
Bacharach skrev kun musik til én enkel traditionel musical på Broadway, "Promises, Promises", i 1969, men skrev til gengæld adskillige filmtemaer – "What's New Pussycat", "The Man Who Shot Liberty Valance", "The Look of Love" og "Raindrops Keep Falling On My Head", og mange huskes i dag bedre, end de film, de blev skrevet til.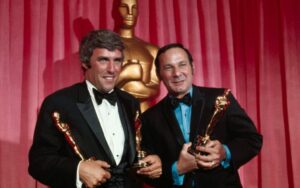 Bacharach og Hal David i 1970, da de modtog en Oscar for Raindrops Keep Falling On My Head
Efter flere hits senere i 1960'erne, som "I'll Never Fall In Love Again", "I Say A Little Prayer" og "This Guy's In Love With You", komponerede Bacharach og David musik og sange til filmmusicalen "Lost Horizon", der i 1973 var en stor fiasko, og det blev en slags Waterloo for det populære makkerskab.
Spændingerne mellem Bacharach og David voksede under arbejdet på filmen, fordi komponisten ikke syntes, at Hal David bidrog nok til projektet. "Jeg følte, at jeg arbejdede røven ud af bukserne, mens han bare spillede tennis i Acapulco", sagde Bacharach senere om samarbejdet, der i 1960'erne kun havde sit lige i makkerskabet mellem John Lennon og Paul McCartney.
Fra 1970'erne og frem arbejdede Burt Bacharach med andre partnere, og fortsatte med at skrive mange hits. Han fik en Oscar for filmtemaet til "Arthur" i 1981, en sang han skrev sammen med Carole Bayer Sager, som han giftede sig med i 1982, efter skilsmissen fra hans anden kone, skuespilleren Angie Dickinson.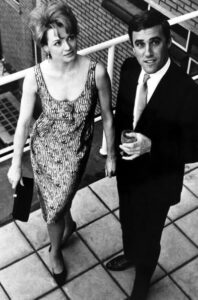 Burt Bacharach med Angie Dickinson, 1965
Senere skrev Bacharach og Sayer også "That's What Friends Are For", der blev en slags signatursang for arbejdet med AIDS-forskning og -forståelse. I 1990'erne indledte Bacharach et frugtbart samarbejde med Elvis Costello, som dels resulterede i sangen "God Give Me Strength" til filmen "Grace Of My Heart" i 1996, og senere et helt album, mesterværket "Painted From Memory" i 1998, der modtog en Grammy. Senere arbejdede de sporadisk sammen, bl.a. på Costello-albummet "Look Now" i 2018.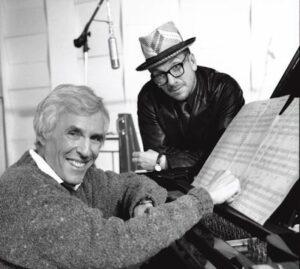 Bacharach og Elvis Costello
Er man ikke familiær med Bacharachs bagkatalog, kan man også med fordel lytte til The Carpenters version af "Close To You", Sandie Shaws "(There's) Always Something There To Remind Me", Gene Pitneys "Twenty Four Hours From Tulsa", "What The World Needs Now Is Love" og mange, mange flere.
Burt Bacharach blev født i Kansas City, Missouri, den 12. maj 1928, og døde af naturlige årsager i sit hjem i Los Angeles den 8. februar 2023.