af Karsten Jørgensen
Den irske dramatiker og instruktør Conor McPhersons musical "Girl From The North Country", som bygger på inspiration fra Bob Dylan og bruger tyve af hans sange, lander på Broadway i New York næste år.
Musicalens handling foregår i 1934 – syv år før Dylan blev født – og viser en dysfunktionel familie, som driver et pensionat med tvivlsomme personer i Dylans barndomsby Duluth i Minnesota.
Musicalen har tidligere spillet i Londons West End og i New York, off-Broadway, og får premiere den 5. marts 2020 på Belasco Theatre på Broadway.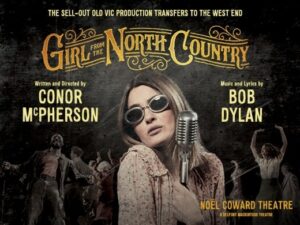 Plakat fra Noel Coward Theatre, London, 2017
Tidligere har McPherson forklaret, hvorfor han besluttede, at handlingen skulle udspille sig under depressionen, flere år før Dylan overhovedet blev født.
"Ved at lægge handlingen før Bob blev født, kunne vi frigøre os fra alle associationer til både ham og 1960'erne. På den måde kunne vi nulstille historien og vise, at med Bob Dylan ændrede verden sig fuldstændig".
Arbejdet på musicalen begyndte i 2013, og McPherson fik retten til at bruge Dylans sange, efter at han forsikrede Dylans management om, at stykket ikke ville omhandle Dylans liv.
Oprindelig havde "Girl From The North Country" premiere på Old Vic i London i juli 2017. Senere flyttede musicalen til Londons West End, og derefter off-Broadway på Public Theater i New York og et teater i Toronto i Canada. Blandt stykkets tyve sange er bl.a. "Hurricane", "Like A Rolling Stone", "You Ain't Goin' Nowhere" og "Forever Young".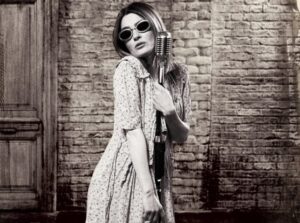 Shirley Henderson på Noel Coward Theatre
Der har tidligere været en Dylan-musical på Broadway, "The Times They Are A-Changin'", i 2006, som var noget af et flop og lukkede efter kun tre uger.
"Girl From The North Country" er planlagt til at spille på Broadway i otte måneder, men kan forkortes eller forlænges, alt efter hvor populært stykket er.