af Karsten Jørgensen
Den 22. november udsender Apple/Universal "The Singles Collection", en boks med alle The Beatles' engelske 7" vinyl-singler fra 1962 til 1970. Sættet består af i alt 23 skiver. Heraf er 22 de originale singler, mens den sidste og 23. er en ny med "Free As A Bird" og "Real Love", to sange, som de tre overlevende medlemmer af gruppen indspillede i midten af 1990'erne, baseret på Lennons demooptagelser fra de sidste år før han døde. Sangene blev udsendt i 1995/1996 i forbindelse med The Beatles' store "Anthology"-projekt.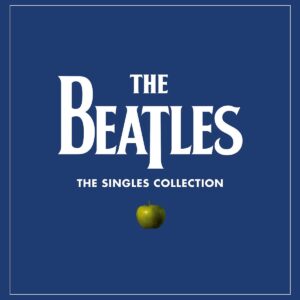 Ligesom det var tilfældet med "We Can Work It Out"/"Day Tripper", 1965, "Eleanor Rigby"/"Yellow Submarine", 1966, og "Strawberry Fields Forever"/"Penny Lane", 1967, er "Free As A Bird"/"Real Love" klassificeret som en dobbelt A-side single, mens alle de øvrige genudsendes med deres oprindelige B-sider.
For at gøre boksen mere interessant for samlere, bliver alle singler udsendt i et udvalg af internationale pladeomslag, og bl.a. præsenteres "Get Back"/"Don't Let Me Down" i det specielt dansk-designede omslag fra 1969. Men dette er også et udtryk for, at det i 1960'erne var almindelig praksis i England, at udsende singler i neutrale omslag, kun påtrykt pladeselskabets navn og logo.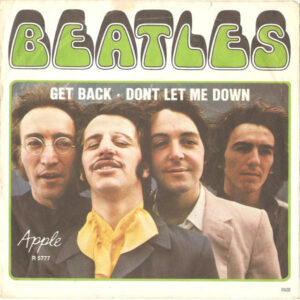 Singlen 'Get Back' med specielt dansk pladeomslag, 1969
De 23 singler ledsages af en bog på 40 sider, med fotos og essays af Beatles-historikeren Kevin Howlett.
"The Singles Collection" markedsføres under betegnelsen 'limited edition', hvilket nok skal gøre særligt ivrige fans hurtige på aftrækkeren. Desværre er det dog ikke præciseret, hvor mange eksemplarer 'limited' dækker over.
Trackliste for de 23 singler, med omslagenes oprindelsesland i parentes:
1962 (U.S.A.)
1 A: Love Me Do
2 B: P. S. I Love You
1963 (Chile)
1 A: I Want To Hold Your Hand
2 B: This Boy
1963 (Grækenland)
1 A: She Loves You
2 I'll Get You
1963 (Italien)
1 A: Please Please Me
2 B: Ask Me Why
1963 (Norge)
1 A: From Me To You
2 B: Thank You Girl
1964 (Østrig)
1 A: Can't Buy Me Love
2 B: You Can't Do That
1964 (Holland)
1 A: A Hard Day's Night
2 B: Things We Said Today
1964 (Sverige)
1 A: I Feel Fine
2 B: She's A Woman
1965 (dobbelt A-side single, Frankrig)
1 A: We Can Work It Out
2 A: Day Tripper
1965 (Belgien)
1 A: Help!
2 B: I'm Down
1965 (Spanien)
1 A: Ticket To Ride
2 B: Yes It Is
1966 (dobbelt A-side single, Argentina)
1 A: Eleanor Rigby
2 A: Yellow Submarine
1966 (Tyrkiet)
1 A: Paperback Writer
2 B: Rain
1967 (dobbelt A-side single, Australien)
1 A: Strawberry Fields Forever
2 A: Penny Lane
1967 (Mexico)
1 A: Hello, Goodbye
2 B: I Am The Walrus
1967 (Vesttyskland)
1 A: All You Need Is Love
2 B: Baby, You're A Rich Man
1968 (Japan)
1 A: Lady Madonna
2 B: The Inner Light
1968 (Sydafrika)
1 A: Hey Jude
2 B: Revolution
1969 (Danmark)
1 A: Get Back
2 B: Don't Let Me Down
1969 (Israel)
1 A: Something
2 B: Come Together
1969 (Portugal)
1 A: The Ballad Of John And Yoko
2 B: Old Brown Shoe
1970 (England)
1 A: Let It Be
2 B: You Know My Name (Look Up The Number)
1995/1996 (Eksklusiv dobbelt A-side single, internationalt omslag)
1 A: Free As A Bird [1995]
2 A: Real Love [1996]