af Karsten Jørgensen
Den 25. november udsender Elvis Costello et delvist livealbum, med titlen "The Boy Named If (Alive at Memphis Magnetic)". Det er et slags tvillingealbum til den plade, han udgav i januar, "The Boy Named If", som fik flotte anmeldelser og fornylig blev nomineret til en Grammy i kategorien Best Rock Album.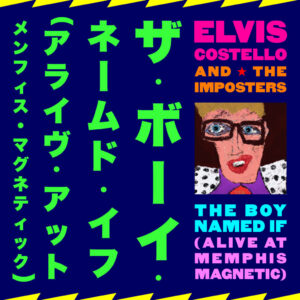 Betegnelsen "livealbum" skal dog tages med et gran salt, idet sangene er indspillet i pladestudiet Memphis Magnetic Recording i Memphis i to sessions, i henholdsvis oktober 2021 og maj 2022, og produceret af Costello selv i samarbejde med Sebastian Krys.
Det nye livealbum indeholder opdaterede versioner af flere af sangene fra "The Boy Named If", og dertil også Costellos tidligere "Everyday I Write The Book", samt cover-versioner af bl.a. "So You Want To Be A Rock'n'Roll Star" (The Byrds), "Out of Time" (The Rolling Stones), "Here, There and Everywhere" (The Beatles) og "Let Me Roll It" (Paul McCartney & Wings).
Elvis Costello bliver som sædvanlig akkompagneret af sin faste backinggruppe, The Imposters, som består af keyboardspilleren Steve Nieve, trommeslageren Pete Thomas og bassisten Davey Faragher, samt guitaristen Charlie Sexton.
I første omgang udsendes det nye album kun digitalt.
Trackliste for "The Boy Named If (Alive at Memphis Magnetic)":
Magnificent Hurt
Truth Drug
Penelope Halfpenny
So You Want To Be A Rock'n'Roll Star
What If I Can't Give You Anything But Love?
The Boy Named If
Let Me Roll It
Everyday I Write The Book
Out of Time
Here, There and Everywhere
Magnificent Hurt (Chelmico Remix)