af Karsten Jørgensen
Idag udsender RCA/Legacy Recordings et nyt album med Elvis Presley, "Where No One Stands Alone", hvor det gennemgående tema er gospel og hvor størstedelen af de oprindelige arkivindspilninger er hentet fra pladerne "How Great Thou Art" fra 1967 og "He Touched Me" fra 1972.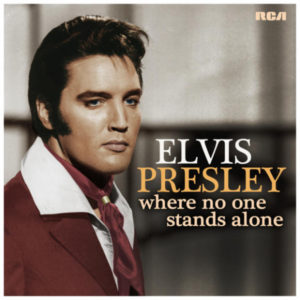 Sangene på "Where No One Stands Alone" er peppet op med nye musikalske arrangementer af The Royal Philharmonic Orchestra, samt nye korarrangementer med adskillige sangere, som arbejdede sammen med Elvis tilbage i 1960'erne og 1970'erne, bl.a. Darlene Love og Cissy Houston, samt vokalgrupperne The Imperials (Terry Blackwood, Armond Morales og Jim Murray) og The Stamps (Donnie Sumner, Bill Baize, Ed Hill og Larry Strickland).
Men flagskibet blandt de 13 sange på det nye album er titelsangen, hvor Elvis synger duet med sin datter Lisa Marie Presley. "Where No One Stands Alone" udsendte Presley på albummet "How Great Thou Art" i 1967, året før Lisa Marie blev født.
"Gospel var hans yndlingsgenre – ingen tvivl om det", skriver Lisa Marie i albumnoterne. "Det var her, han var mest lidenskabelig. Han var så fuld af liv, uanset om han bare sad derhjemme og sang for mig eller om han stod på en scene foran tusindvis af fans".
"Det var en meget stærk og bevægende oplevelse, at synge med min far", fortsætter Lisa Marie. "Teksten taler til mig og berører mig, og jeg er sikker på, at den gjorde det samme ved min far".
Det nye album er produceret af Joel Weinshanker, i samarbejde med Andy Childs og Lisa Marie Presley.
Trackliste:
1. "I've Got Confidence"
2. "Where No One Stands Alone" (duet med Lisa Marie Presley)
3. "Saved"
4. "Crying In The Chapel"
5. "So High"
6. "Stand By Me"
7. "Bosom Of Abraham"
8. "How Great Thou Art"
9. "I, John"
10. "You'll Never Walk Alone"
11. "He Touched Me"
12. "In The Garden"
13. "He Is My Everything"
"Where No One Stands Alone" udsendes af RCA/Legacy Recordings den 10. august 2018.