af Karsten Jørgensen
Paul McCartneys hjemmeside, paulmccartney.com, har i dag annonceret, at Paul McCartney kommer til København og giver koncert i Royal Arena den 30. november.
Sidst Paul McCartney spillede i Danmark var for to år siden, den 27. juni 2016 i Jyske Bank Boksen i Herning, men eks-beatlens seneste besøg i København ligger hele femten år tilbage, nemlig da han spillede i Parken den 2. maj 2003.
– Første gang jeg var i København, var med The Beatles, og senere var jeg der også med Wings og igen som solist, men min sidste koncert der var, utroligt nok, for 15 år siden, skriver McCartney på sin hjemmeside.
– Vi har været i Danmark flere gange siden, og det har altid været sjovt. Vi har opdateret vores show siden sidst, og vi er spændt på, at spille nogle af de nye sange fra det nye album, sammen med alle de andre sange, som vi elsker at spille.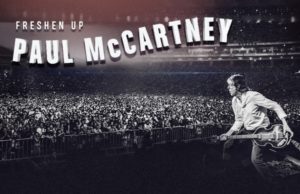 Pauls nye turné, som har fået navnet "Freshen Up Tour", starter i Quebec i Canada den 17. september og fortsætter senere i både Japan og Europa. Den 7. september udsender McCartney sit nye studiealbum, "Egypt Station", som er det første siden "New" i 2013.
Billetterne til koncerten i Royal Arena den 30. november sættes til salg gennem Ticketmaster den 31. august kl. 10, og priserne ligger fra 650-1850 kr., inklusiv gebyr.