af Karsten Jørgensen
Neil Young har igen kastet snøren ned i sit uudtømmelige musikalske arkiv, og dennegang har han fået nogle tyve år gamle optagelser på krogen.
I slutningen af 2000 og begyndelsen af 2001 indspillede Neil Young og Crazy Horse syv sange til et album i Toast Studios i San Francisco. Men af forskellige årsager blev optagelserne skrinlagt og aldrig udsendt. I stedet udkom et par af sangene ("Quit" og "Goin' Home") på Neils følgende album, "Are You Passionate?", som fortrinsvis blev lavet i samarbejde med soul-gruppen Booker T. & The MG's. Tre sange – "Standing In The Light of Love", "Timberline" og "Gateway of Love" – har ikke været udgivet tidligere.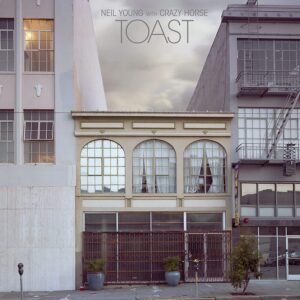 Den 8. juli udsender Neil Young, via Reprise Records, de mere end tyve år gamle indspilninger under titlen "Toast" (opkaldt efter studiet), og forklarer samtidig i en pressemeddelelse, at en væsentlig årsag til, at projektet aldrig udkom i 2001 var, at albummets tekster var alt for personlige.
"Det var et meget trist album … så jeg sprang over og lavede et andet album i stedet for", siger han og uddyber, at albummet handler "om et forhold, og om det tidspunkt i forholdet, hvor man, længe før et egentligt brud, ved, at det er forbi".
Neil Young har brugt tiden under coronapandemien til at gennemgå sit arkiv, og har udsendt en del tidligere kasserede plader gennem de seneste to år, bl.a. "Homegrown", "Young Shakespeare", "Way Down In The Rust Bucket" og "Summer Songs". Efter "Toast" er det planen, at udsende et livealbum, "Noise & Flowers", sammen med Promise of the Real i august, og dertil også et nyt studiealbum, "More Barn", som er en opfølger til sidste års "Barn".
Trackliste for "Toast":
1. "Quit"
2. "Standing in the Light of Love"
3. "Goin' Home"
4. "Timberline"
5. "Gateway Of Love"
6. "How Ya Doin'?"
7. "Boom Boom Boom"