af Karsten Jørgensen
På mere end 200 pladeindspilninger med Elvis Presley, blev han bakket op vokalt af gospelgruppen The Jordanaires, som endvidere medvirkede i tre af hans bedst kendte film. De var også med ved mange af hans tv-optrædender i de tidlige år, og stod bag ham på scenen på adskillige turneer.
I november udkommer en ny bog om The Jordanaires, skrevet af gruppens mangeårige medlem Gordon Stoker, i samarbejde med hans søn Alan Stoker og reporteren Michael Kosser.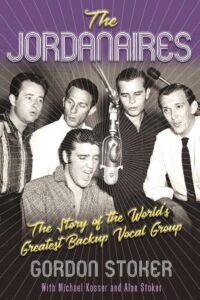 Bogen "The Jordanaires: The Story of the World's Greatest Backup Vocal Group" udsendes på forlaget Backbeat Books, og fortæller historien om gruppen, som blev dannet i Tennessee i 1948, og var aktive i mere end tres år, helt frem til 2013.
Undervejs medvirkede de på plader med, ikke mindst, Elvis Presley, men også store navne som Ricky Nelson, Fats Domino, Willie Nelson, Dolly Parton, The Everly Brothers, Neil Young, Ringo Starr, Tom Jones, Patsy Cline, Brenda Lee og mange, mange andre.
Det anslås, at The Jordanaires' stemmer har lydt på indspilninger med i alt 2100 forskellige kunstnere, som har solgt i et samlet oplag på over otte milliarder eksemplarer.