af Karsten Jørgensen
De aller tidligste år i Elvis Presleys musikalske karriere bliver nu minutiøst dokumenteret på en ny tredobbelt cd-boks, "A Boy From Tupelo – The Complete 1953-55 Recordings", der som titlen siger spænder over de første to år i "kongens" karriere, fra juli 1953 til december 1955, hvor Elvis skrev pladekontrakt med RCA.
De tre cd'er indeholder alle kendte studie-, samt live- og radiooptagelser – heriblandt flere nyfundne rariteter, som sikkert vil begejstre mere hardcore-fans, bl.a. en koncertoptagelse af "I Forgot To Remember To Forget" fra Louisiana Hayride fra den 29. oktober 1955. Endvidere er boksen forsynet med en bog på 120 sider.
Bag udvalget står den danske Elvis-kender Ernst Mikael Jørgensen, som i mange år har arbejdet med at få Elvis' kendte og ukendte indspilninger frem i lyset. "I alle de år jeg har arbejdet med Elvis Presleys bagkatalog har det irriteret mig, at der er så mange der tror, at Elvis bare befandt sig det rigtige tid og sted, og var heldig", siger han og hævder, at indholdet på den nye cd-boks beviser at "det handlede om talent, hårdt arbejde og originalitet".
"A Boy From Tupelo – The Complete 1953-55 Recordings" udsendes den 28. juli 2017 af Sony Legacy.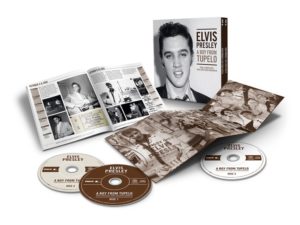 Trackliste (sange med * er hidtil uudgivne):
Disc 1
Memphis Recording Service Acetates
1. "My Happiness" (Recorded July, 1953 at Sun Studio)
2. "That's When Your Heartaches Begin" (Recorded July, 1953 at Sun Studio)
3. "I'll Never Stand in Your Way" (Recorded January 4, 1954 at Sun Studio)
4. "It Wouldn't Be the Same (Without You)" (Recorded January 4, 1954 at Sun Studio)
Sun Masters
5. "Harbor Lights 2:38 (Possibly recorded July 5, 1954 at Sun Studio, Memphis)
6. "I Love You Because (unprocessed master edit)" (Recorded July 5, 1954 at Sun Studio, Memphis) *
7. "That's All Right (45 rpm master)" (Recorded July 5, 1954 at Sun Studio, Memphis)
8. "Blue Moon of Kentucky (45 rpm master)" (Recorded July 7, 1954 at Sun Studio, Memphis)
9. "Blue Moon" (Likely recorded between August 15 and 19, 1954 at Sun Studio, Memphis)
10. "Tomorrow Night" (Recorded between September 12-16, 1954 at Sun Studio, Memphis)
11. "I'll Never Let You Go (Little Darlin')" (Recorded between September 12-16, 1954 at Sun Studio, Memphis)
12. "I Don't Care if the Sun Don't Shine" (Recorded between September 12-16, 1954 at Sun Studio, Memphis)
13. "Just Because" (Recorded between September 12-16, 1954 at Sun Studio, Memphis)
14. "Good Rockin' Tonight" (Recorded between September 12-16, 1954 at Sun Studio, Memphis)
15. "Milkcow Blues Boogie" (Recorded either mid-November or mid-December 1954 at Sun Studio, Memphis)
16. "You're a Heartbreaker" (Recorded either mid-November or mid-December 1954 at Sun Studio, Memphis)
17. "I'm Left, You're Right, She's Gone (slow version)" (Recorded between mid-November 1954 and mid-April 1955 at Sun Studio, Memphis)
18. "Baby Let's Play House" (Likely recorded between January 30 and February 4, 1955 at Sun Studio, Memphis)
19. "I'm Left, You're Right, She's Gone" (Likely recorded mid-April 1955 at Sun Studio, Memphis)
20. "I Forgot to Remember to Forget" (Recorded mid-July, 1955 at Sun Studio, Memphis)
21. "Mystery Train" (Recorded mid-July, 1955 at Sun Studio, Memphis)
22. "Tryin' to Get To You" (Recorded mid-July, 1955 at Sun Studio, Memphis)
23. "When It Rains It Pours" (Recorded November 1-4, 1955 at Sun Studio, Memphis)
RCA Masters
24. "That's All Right (RCA single version)" (Recorded July 5, 1954 at Sun Studio, Memphis)
25. "Blue Moon of Kentucky (RCA single version)" (Recorded July 7, 1954 at Sun Studio, Memphis)
26. "I Love You Because (RCA LP version)" (Recorded July 5, 1954 at Sun Studio, Memphis)
27. "Tomorrow Night (RCA LP version)" (Recorded between September 12-16, 1954 at Sun Studio, Memphis)
Disc 2
Sun Studio Sessions
1. "Harbor Lights (takes 1-2, 3/M)" (Possibly recorded July 5, 1954 at Sun Studio, Memphis) *
2. "Harbor Lights (take 4)" (Possibly recorded July 5, 1954 at Sun Studio, Memphis)
3. "Harbor Lights (takes 5-8)" (Possibly recorded July 5, 1954 at Sun Studio, Memphis) *
4. "I Love You Because (takes 1-2)" (Recorded July 5, 1954 at Sun Studio, Memphis)
5. "I Love You Because (take 3)" (Recorded July 5, 1954 at Sun Studio, Memphis)
6. "I Love You Because (takes 4-5)" (Recorded July 5, 1954 at Sun Studio, Memphis)
7. "That's All Right (takes 1-3)" (Recorded July 5, 1954 at Sun Studio, Memphis)
8. "Blue Moon of Kentucky (slow tempo outtake)" (Recorded July 7, 1954 at Sun Studio, Memphis)
9. "Blue Moon (takes 1-4)" (Likely recorded between August 15 and 19, 1954 at Sun Studio, Memphis) *
10. "Blue Moon (take 5)" (Likely recorded between August 15 and 19, 1954 at Sun Studio, Memphis)
11. "Blue Moon (takes 6-8)" (Likely recorded between August 15 and 19, 1954 at Sun Studio, Memphis)
12. "Blue Moon (take 9/M)" (Likely recorded between August 15 and 19, 1954 at Sun Studio, Memphis)
13. Dialogue (fragment before "Tomorrow Night") *
14. "I'll Never Let You Go (Little Darlin') (incomplete take)" (Recorded between September 12-16, 1954 at Sun Studio, Memphis)
15. "Good Rockin' Tonight (fragment from vocal slapback tape)" (Recorded between September 12-16, 1954 at Sun Studio, Memphis) *
16. "I Don't Care if the Sun Don't Shine (takes 1-3/M)" (Recorded between September 12-16, 1954 at Sun Studio, Memphis.)
17. "I'm Left, You're Right, She's Gone (slow version, take 1)" (Recorded between mid-November 1954 and mid-April 1955 at Sun Studio, Memphis)
18. "I'm Left, You're Right, She's Gone (slow version, take 2)" (Recorded between mid-November 1954 and mid-April 1955 at Sun Studio, Memphis)
19. "I'm Left, You're Right, She's Gone (slow version, take 3)" (Recorded between mid-November 1954 and mid-April 1955 at Sun Studio, Memphis)
20. "I'm Left, You're Right, She's Gone (slow version, take 4-5)" (Recorded between mid-November 1954 and mid-April 1955 at Sun Studio, Memphis)
21. "I'm Left, You're Right, She's Gone (slow version, takes 6-7)" (Recorded between mid-November 1954 and mid-April 1955 at Sun Studio, Memphis)
22. "How Do You Think I Feel (guitar slapback tape, rehearsals + take 1)" (Recorded between mid-November 1954 and mid-April 1955 at Sun Studio, Memphis) *
23. "When It Rains It Pours (vocal slapback tape, take 1)" (Recorded November 1-4, 1955 at Sun Studio, Memphis) *
24. "When It Rains It Pours (vocal slapback tape, take 2 – rehearsal 1 – takes 3-4)" (Recorded November 1-4, 1955 at Sun Studio, Memphis) *
25. "When It Rains It Pours (vocal slapback tape, take 5/M)" (Recorded November 1-4, 1955 at Sun Studio, Memphis)
26. "When It Rains It Pours (vocal slapback tape, take 6-8)" (Recorded November 1-4, 1955 at Sun Studio, Memphis) *
Disc 3
Live and Radio Performances
1. "That's All Right" (Recorded at the Louisiana Hayride, Shreveport, Louisiana, October 16, 1954)
2. "Blue Moon of Kentucky" (Recorded at the Louisiana Hayride, Shreveport, Louisiana, October 16, 1954)
3. "Shake, Rattle and Roll" (Recorded at KDAV Radio, Lubbock, Texas, January 6, 1955)
4. "Fool, Fool, Fool" (Recorded at KDAV Radio, Lubbock, Texas, January 6, 1955)
5. "Hearts of Stone" (Likely recorded at the Louisiana Hayride, Shreveport, Louisiana, January 15, 1955)
6. "That's All Right" (Likely recorded at the Louisiana Hayride, Shreveport, Louisiana, January 15, 1955) *
7. "Tweedlee Dee" (Likely recorded at the Louisiana Hayride, Shreveport, Louisiana, January 15, 1955)
8. "Shake, Rattle and Roll" (Recorded at WJOI Radio, Florence, Alabama January 19, 1955) *
9. KSIJ Radio commercial with DJ Tom Perryman (Recorded at KSIJ Radio, Gladewater, Texas, 1955) *
10. "Money Honey" (Likely recorded at the Louisiana Hayride, Shreveport, Louisiana, January 22, 1955)
11. "Blue Moon of Kentucky" (Likely recorded at the Louisiana Hayride, Shreveport, Louisiana, January 22, 1955) *
12. "I Don't Care if the Sun Don't Shine" (Likely recorded at the Louisiana Hayride, Shreveport, Louisiana, January 22, 1955)
13. "That's All Right" (Likely recorded at the Louisiana Hayride, Shreveport, Louisiana, January 22, 1955)
14. "Tweedlee Dee" (Likely recorded at the Louisiana Hayride, Shreveport, Louisiana, March 5, 1955) *
15. "Money Honey" (Likely recorded at the Louisiana Hayride, Shreveport, Louisiana, March 5, 1955) *
16. "Hearts of Stone" (Likely recorded at the Louisiana Hayride, Shreveport, Louisiana, March 5, 1955) *
17. "Shake, Rattle and Roll" (Likely recorded at the Louisiana Hayride, Shreveport, Louisiana, March 5, 1955) *
18. "Little Mama" (Likely recorded at the Louisiana Hayride, Shreveport, Louisiana, March 5, 1955) *
19. "You're a Heartbreaker" (Likely recorded at the Louisiana Hayride, Shreveport, Louisiana, March 5, 1955) *
20. "Good Rockin' Tonight" (Likely recorded at the Eagles' Hall, Houston, Texas, March 19, 1955)
21. "Baby Let's Play House" (Likely recorded at the Eagles' Hall, Houston, Texas, March 19, 1955) *
22. "Blue Moon of Kentucky" (Likely recorded at the Eagles' Hall, Houston, Texas, March 19, 1955) *
23. "I Got a Woman" (Likely recorded at the Eagles' Hall, Houston, Texas, March 19, 1955)
24. "That's All Right" (Likely recorded at the Eagles' Hall, Houston, Texas, March 19, 1955) *
25. "Tweedlee Dee" (Recorded at Gladewater High School, Gladewater, Texas, April 30, 1955)
26. "That's All Right" (Recorded at the Jimmie Rodgers Memorial Festival, Meridian, Mississippi, May 26, 1955) *
27. "I'm Left, You're Right, She's Gone" (Recorded at the Louisiana Hayride, Shreveport, Louisiana, July 2, 1955) *
28. "Baby Let's Play House" (Recorded at the Louisiana Hayride, Shreveport, Louisiana, August 20, 1955)
29. "Maybellene" (Recorded at the Louisiana Hayride, Shreveport, Louisiana, August 20, 1955)
30. "That's All Right" (Recorded at the Louisiana Hayride, Shreveport, Louisiana, August 20, 1955)
31. Interview with Bob Neal (Recorded at WMPS Radio, Memphis Tennessee, between August 29-31, 1955)
32. "I Forgot To Remember To Forget" (Recorded at the Louisiana Hayride, Shreveport, Louisiana, October 29, 1955) *