af Karsten Jørgensen
Den legendariske pladeproducer Quincy Jones, som har arbejdet med kunstnere fra Lesley Gore og Little Richard til Michael Jackson, Frank Sinatra og Donna Summer, fylder 85 år i næste måned, og blev i den anledning fornylig interviewet til magasinet New York.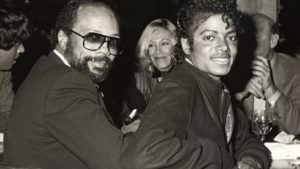 Quincy Jones og Michael Jackson
Emnerne i interviewet spændte fra astrologi, raceproblematik og den aktuelle feministbevægelse, til personlige betragtninger om musikbranchen og hans kolleger i den. Her langede Quincy Jones bl.a. ud efter Michael Jackson, som han kaldte for en 'sangtyv', under henvisning til, at Jacksons kæmpehit "Billie Jean" havde lånt lige lovlig meget fra Donna Summers "State Of Independence". Men også The Beatles fik nogle hug.
"Paul er den dårligste bassist, jeg nogensinde har hørt", sagde Jones bramfrit, og fortsatte med en sønderlemmende kritik af Ringo Starr, som han arrangerede sangen "Love Is A Many Splendoured Thing" for, på Beatles-trommeslagerens solodebutalbum "Sentimental Journey" i 1970.
"Jeg kan huske, at Ringo brugte tre timer på at lægge rytme på et helt enkelt nummer i fire-fjerdedele. Men han kunne ikke ramme takten", sagde Quincy Jones.
Quincy Jones foreslog Ringo at holde en halv times pause, og så komme tilbage til studiet og prøve igen. Imellemtiden fik Quincy en studiemusiker til at indspille trommerne til sangen.
Da Ringo kom tilbage, bad han Quincy Jones om at afspille båndet med sangen.
"Det lyder da ikke så dårligt, vel", sagde Ringo glad, hvortil Quincy Jones tørt svarede: "Nej, men det er heller ikke dig".
Men bortset fra det var Ringo Starr en flink fyr, sagde Quincy Jones i interviewet.