af Karsten Jørgensen
Da det den 11. december blev offentliggjort, at fem kunstnere/grupper ville blive optaget i Rock And Roll Hall Of Fame i Cleveland den 14. april 2018, herunder den engelske rockgruppe The Moody Blues, var Denny Laine, tidligt medlem af gruppen før de i 1967 skiftede til at lave mere storladen symfonisk rock, blandet op med psykedeliske elementer, ikke blandt de medlemmer, som ville få æren.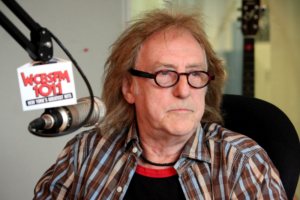 Denny Laine i 2017
Men senere, på foranledning af både Steve Van Zandt og Peter Asher, der begge er med i Rock-hallens bestyrelse, er Denny Laines navn blevet føjet til de øvrige medlemmer af The Moody Blues – Graeme Edge, Justin Hayward, John Lodge, Mike Pinder og Ray Thomas.
Denny Laine var sanger og guitarist i The Moody Blues fra 1964 til 1966, og var i front på deres første hit, "Go Now", der blev nr. 1 på den engelske single-hitliste i 1964.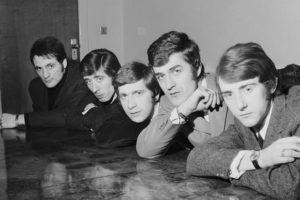 The Moody Blues i 1965 – Denny Laine t.h.
Før The Moody Blues var Laine leder af sin egen gruppe, Denny & The Diplomats, og senere var han både solist og med i grupper som Electric String Band, Balls og Ginger Baker's Air Force, før han i 1971 blev guitarist i Wings, den gruppe Paul McCartney dannede efter bruddet i The Beatles.
Denny Laine var med i alle årene i Wings, indtil 1981, hvor gruppen gik i opløsning efter McCartneys arrestation i Tokyo for forsøg på indsmugling af marijuana. Siden har Denny Laine primært været solist og bosiddende i USA.
Da det den 16. december stod klart, at Laine også ville blive optaget i Rock And Roll Hall Of Fame var han begejstret.
"Jeg syntes resten af bandet fortjente det, på grund af al deres arbejde og popularitet", sagde Laine til Billboard. "Jeg er stor fan af deres musik, og jeg er naturligvis glad for, at jeg også bliver optaget. Det er en ære, og jeg synes, jeg er en lille del af deres historie".
Om chancerne for at Wings også bliver optaget i Rock And Roll Hall Of Fame er Laine skeptisk.
"Det var jo ikke et rigtigt band. Det var bare Paul McCartney og en backinggruppe", siger Laine. "Så helt ærligt, så tror jeg ikke, der er de helt store chancer for, at Wings bliver optaget".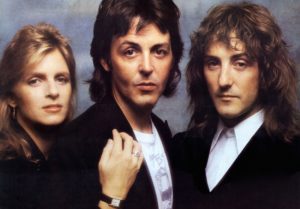 Wings – Linda McCartney, Paul McCartney, Denny Laine