af Karsten Jørgensen
Når den nye og femte "Pirates Of The Caribbean"-film får premiere den 26. maj, vil Paul McCartney figurere på det hvide lærred i en mindre rolle som fangevogter.
Filmen, som får undertitlen "Dead Men Tell No Tales", har igen Johnny Depp og Keira Knightley i to af de store roller, mens Keith Richards fra The Rolling Stones, som var med i de to foregående "Pirates"-film i rollen som kaptajn Jack Sparrows far, denne gang er skrevet ud af manuskriptet.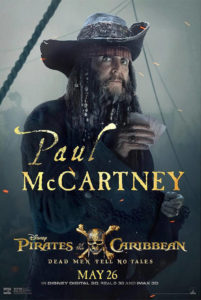 Paul McCartney klædt ud som pirat
Det er ikke første gang, at Paul McCartney og Johnny Depp optræder sammen på film. I 2014 medvirkede Depp i videoen til McCartney-sangen "Early Days".
Premieredatoen 26. maj er i øvrigt samme dag, som The Beatles' skelsættende album "Sgt. Pepper's Lonely Hearts Club Band" udkommer i en 50 års jubilæumsudgave.