af Karsten Jørgensen
Det oprindelige håndskrevne tekstudkast til en af Paul McCartneys mest udskældte Beatles-sange, "Maxwell's Silver Hammer", er udbudt til salg via online-auktionsfirmaet Moments In Time, og startprisen er på 425.000 $.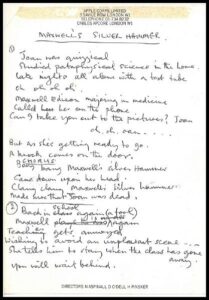 McCartneys originale tekstark
Sangen, som McCartney begyndte at arbejde på under The Beatles' ophold i Maharishi Mahesh Yogis asram i den indiske by Rishikesh i februar/marts 1968, blev senere udsendt som sang nr. 3 på The Beatles' legendariske album "Abbey Road" i september 1969.
Alle medlemmerne af The Beatles, undtagen McCartney, havde et anstrengt forhold til sangen, som gruppen forsøgte at indspille utallige gange mellem januar til august 1969.
"Jeg hader den", bedyrede John Lennon i et af sine sidste interview med Playboy i september 1980.
"Det er en sjov sang", sagde George Harrison, "men også lidt syg, fordi Maxwell bliver ved med at slå nogen ihjel".
"Den værste sang, vi nogensinde indspillede", mener Ringo Starr.
På det originale tekstark kan man se, hvordan Paul McCartney eksperimenterer med teksten, før den fandt sin endelige form.
"Back in school again/Maxwell is a tool again" og "Back in class again/Maxwell is an ass again" er to forsøg, som blev droppet, inden McCartney fandt på den linje, der udkom på sangen på "Abbey Road": "Back in school again/Maxwell plays the fool again". Uvist af hvilken årsag, stopper tekstarket midt i andet vers, hvorefter resten mangler.
Selvom 425.000 $ lyder som en betragtelig sum for et stykke papir med McCartneys håndskrevne tekst, så er det alligevel peanuts, sammenlignet med John Lennons håndskrevne tekst til "All You Need Is Love", der gik for 1,2 millioner $ tilbage i 2005.